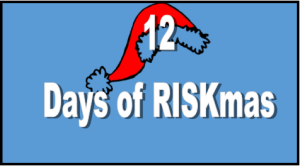 Tis the season to be jolly and often the season when many display folly. While you're browsing sales on your computer screen, make sure your client data stays clean. Everyone isn't set on spreading holiday cheer; phishing scams, wire fraud and hackers could be near. Don't forget to make those client calls before you begin to deck the halls. Here at Lawyers Mutual we've compiled a helpful list—here are the 12 days of RISKmas!
1)      Tightening Up your Cyber Security
2)      7 Tips for Protecting Your Online Reputation
3)      Four Gambling Traps to Avoid With Clients
4)      Risk Management in the Wireless Age
5)      Sending a letter is easier than defending a Malpractice Claim
7)      5 Simple Steps to Cyber-Security
8)      Avoiding Cybercrime Dangers: A Backup Could Save Your Practice After a Cybercrime Incident
9)      Don't Make It Worse! Disclosing Malpractice to Your Client
10)   Creating a Secure Password: So Easy a 12-Year-Old Can Do It
11)   10 Important Ethics Rulings on Conflicts of Interest
12)   Are Cyber-Thieves In Your Breakroom Fridge?
We hope these posts have given you some tips that you can use. This holiday season and all through the year check out our risk management resources and practice without fear.
Happy Holidays from Lawyers Mutual!