35 Years of Mutual Memories - Reflections from Glen Hardymon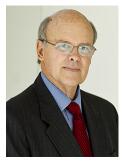 Few people have been more important to the creation and success of Lawyers Mutual than Glen B. Hardymon of Charlotte. A founding member of the Board of Directors, he served as Board Chair from 2008 to 2012 and is presently director emeritus. His academic credentials include degrees from Duke University and UNC Law School, where he was Editor in Chief of the Law Review. When he wasn't solving complex business and real estate problems at K&L Gates LLP he could usually be found watching or playing sports. He was a guiding force behind the downtown arena in Charlotte.
At Lawyers Mutual, Glen is loved for many reasons – his loyalty, intelligence and keen analytical mind – but also for his devotion to the company, its insureds and employees.
Following are some of his observations from 35 years of service to the lawyers of North Carolina:
Creating Lawyers Mutual and Raising Capital in 1977
We called on lawyers individually and we called on law firms. We told them about Lawyers Mutual and told them, frankly, we need your help and we need your money.
By the end of 1977, some 1300 to 1400 lawyers contributed to the almost one million dollars we needed to begin operations.
I can still remember the day in May 1978 when we issued our first policy. It was a milestone. There was a group of us who worked hard to make this a reality. One was John Beard who became the face of the company for twenty years or more.
The support of the N.C. Bar Association was critical. It gave us instant credibility.
Lawyers Mutual was the first company of its type formed in the United States. It was a great feeling to be a part of that. And we are the only insurance company in North Carolina to provide insurance coverage to the state's lawyers continuously since 1977. So we must be doing something right.
Helping Lawyers Solve Problems
A malpractice claim and what it puts a lawyer through can be really tough to deal with. Like everyone else lawyers make mistakes. But unlike other people it can be difficult for lawyers to let go. I'm still selling that.
How we handle claims sets us apart. We are available to talk one on one with lawyers when they have a problem. That's been one of our strong points, one of the cornerstones of our company.
Our in-house lawyers are from right here in North Carolina. That makes us unique. We hire outside counsel tailored to the claim and the location. If you are from Goldsboro, you are going to be working with a Goldsboro lawyer or one close by. That was our philosophy from the start, and it's still our philosophy. Local claims handling. It's something that doesn't happen with any of the commercial companies.
Often we are able to fix a problem before it turns into a claim. That has been a true innovation. We have been doing claims repair since the beginning. Encouraging the early reporting of errors has been a hallmark of the company.
Our risk management program is a way to keep our insureds informed and also provide them with tools to avoid claims. Our continuing education programs focus on areas where we see problems. We try to be timely and responsive.
On Customer Service
We have a very, very loyal group of policyholders.
From the start we tried not to look at insurance as a commodity. Our mission was service and protection. We now have more than seven thousand insureds. They are our strength. They are our number one concern. And they are our best referral for other lawyers.
We understand our insureds. We are North Carolina lawyers ourselves so we feel like we are one of them. Our focus has always been on small firms and solo practitioners. The average size firm we insure is 2.5 lawyers.
Together We Made History
I am proud that I was able to play a role as Lawyers Mutual has grown over the years, especially in some of the financial considerations. We have always been careful and conservative with our insureds' money. Today we have a surplus of $46 million. That's good news for the lawyers in this state.
The legal profession has been good to me. I have gotten to do what I love. My service with Lawyers Mutual is at the top of the list. It is something I can look at with great satisfaction.
We made history. We built something to last. We did it together and we should all be proud.
About the Author