35 Years of Mutual Memories - An Interview with William Stroud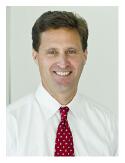 In 1984, when Lawyers Mutual formed a subsidiary – then known as Lawyers Insurance Agency – it became more than just a company that provided malpractice coverage for North Carolina lawyers. It became a place that took care of their families and employees as well.
Today, Lawyers Insurance teams up with Lawyers Mutual to form a one-stop insurance center for lawyers in big firms and solo practices, from Asheville to Ahoskie. As the endorsed agency for the N.C. Bar Association, it offers a wide range of services and products: health coverage, worker's compensation, life and disability insurance, court bonds and structured settlements.
William Stroud has been President of Lawyers Insurance since 1997. An attorney himself, William enjoys helping lawyers find solutions that bring protection, prosperity and peace of mind at work and at home. When he's not doing that, he loves spending time with his family, hitting golf balls and reading biographies.
From Arguing Cases to Issuing Policies
I joined Lawyers Mutual in 1997. My role was manager of Lawyers Insurance. Prior to that, I spent two years in private practice and eight years as a structured settlement consultant.
Now I wear two hats. I am President of Lawyers Insurance and Senior Vice-President of Lawyers Mutual. This gives me a great opportunity to see both sides of our business. I understand how professional liability insurance works. And I also know what other products and services can be beneficial to lawyers.
John Beard was President of Lawyers Mutual when I came on board. I think his greatest strength was the vision he had for the company. That vision played a large part in nurturing the company through its early years.
John understood both the service that Lawyers Mutual provided to its policyholders and the necessity for good insurance practices to bolster financial strength.
The Times Have A'Changed
Both the legal landscape and the state itself have changed dramatically over the last 15 years.  North Carolina continues to grow and attract people from all over the country. Meanwhile, the state's lawyers have become more compressed into urban areas, and their practices have become much more different with increased specialization.
There is less commonality as a result. This makes camaraderie and professionalism more difficult to nurture. Nevertheless, I think the bar in North Carolina is more cohesive than in most other states.
Lawyers Mutual continues to try to serve the largest possible cross-section of the bar. But there are no "one size fits all" solutions for the state's lawyers. What used to be a mild climate for legal malpractice claims has heated up over the past decade. In response, Lawyers Mutual has had to intensify its underwriting efforts.
Ironically, though, our underwriting practices can serve as a best practices manual for lawyers. We are not trying to punish anybody. Our goal is simply to help lawyers practice law efficiently and with the fewest errors possible.
Milestones and Markers
One big achievement was reaching what I call critical mass or escape velocity. By this I mean having sufficient capital that a bad run of claims can no longer threaten the company's existence. This was achieved roughly in the first 10 years.
Another major accomplishment was getting to a place of exceptional financial strength following the low claims and high investment return environment of the 1990's. We got there in the second 10 years or so.
And a third achievement was the challenge of adapting to a higher claims environment and shifting from a one-rate-fits-all model to one applying all of the risk assessment tools commonly used in the insurance field to ensure financial strength. This has been ongoing for the last five years. As a mutual company, we have and will return capital to our policyholders through dividends as appropriate.
An Ace on Board
There are many attributes that I think make Lawyers Mutual unique in the industry.
An important one is the skill of our claims department. The lawyers in that department have tremendous experience. This is a great advantage to our policyholders, having a partner like that available to help them solve problems.
Another big plus is our client services department. Our educational and risk management programs are second to none in the lawyers professional liability business.
In reminiscing, I have fond memories and great admiration for Clarence "Ace" Walker. He served on the board of directors of Lawyers Mutual and provided enormous leadership. He was able to distill difficult issues to their simplest form and he had a very quick wit.
It's always a treat to see Ace at Bar functions as he enjoys retirement. But I wonder, do lawyers ever really retire?
About the Author