35 Years of Mutual Memories: An Interview with Wayne Stephenson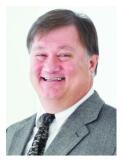 Since first signing on with Lawyers Mutual in 1989, claims attorney Wayne Stephenson has become a nationally-known authority in real property law. His credentials include stints in private practice and as a title company lawyer. But he learned about hard work and customer care as a young boy pumping gas at his father's service station. At Lawyers Mutual he has handled claims involving bank failures and Civil War battlefields. All of which has given him a unique perspective into the practice of real estate law in North Carolina.
Following are some first-person reflections on his colorful career:
It Started With A Vision
Lawyers Mutual was about twelve years old when I joined. At the time John Hester and Karen Peeler were the claims attorneys. I was brought on to handle real estate claims. In the early days I also handled bankruptcy, estates, corporations and taxation. Over the years as claims staff grew and unfortunately real estate claims did as well, I began to handle real estate exclusively.
My prior experience in private practice [with Womble Carlyle in Winston Salem and Everett Hancock Nichols & Calhoon in Raleigh] allowed me to step into the shoes of our insureds. I had personally visited more than one-third of the Register of Deeds offices in North Carolina. When our insureds described a title search error, I could actually visualize what had happened. My experience with title companies [Investors Title and First Title Insurance Company] gave me an insurance background and also let me see how title companies view subrogation claims, which I don't think Lawyers Mutual fully appreciated prior to my employment.
No question, John Beard was a visionary with the idea of a professional liability carrier formed and owned by the attorneys themselves. And he repeatedly made it clear – sometimes rather forcefully - that we were to view ourselves as a service to the members of the Bar. Our mission was to provide top quality service.
Tense Moments At The Claims Table
Early on we saw the same type of claims we see today, I'm afraid. Probably 50 percent of the real estate claims are title errors, followed by payoff errors. Equity line payoff claims are particularly frustrating considering how long we and the title companies have preached the proper procedures to pay off and cancel these loans. These are the most easily preventable real estate claims. All it takes is a solid quality control system.
The claims arising from the collapse of Abbey Financial and Island Mortgage, which eventually led to the Good Funds Settlement Act, were a shock. Probably one of the most difficult moments I've had was sitting with a fine, decent, well-respected father and daughter law firm, along with John Beard, at a bank officer's desk trying to explain that even with our help the firm still needed the bank's assistance to repay their trust account and make their clients whole. This was so even though it was the lender's collapse that caused the losses. The firm had to use assets meant for the father's retirement as collateral.
Claims arising from real estate fraud schemes and dishonest lawyers or staff are also difficult. The victims might not just be clients but innocent law partners. I'm very proud that in many of these situations where there isn't any coverage, we have still been able to offer some advice and guidance to the attorneys going through a tough situation. Yes, we could have said, "Sorry, there's no coverage" and ended the conversation there. But instead we stood by our insureds by way of giving advice where we could because it was the right thing to do.
The 2008 market downturn led to a tidal wave of real estate claims. In a normal market where there is rising real estate value and rapid turnover of property, many errors are never discovered. With the 2008 downturn, every error rose to the surface.
The Importance of Seeing The Whole Forest
I think the questions asked today by the underwriting department are making our insureds take a step back from looking at the "trees" of day-to-day practice to examining the whole "forest" of their practice. It's creating more of a self-evaluation and quality control mindset.
In risk management, Nancy Byerly Jones and then Jay Reeves began our CLE programs many years ago, way back on Annapolis Drive. Their programs went to both the large and small population areas we served. I think when some of the title companies saw the positive response we were getting, they were inspired to begin similar programs. If it helps reduce errors, the more the better.
Now we reach out to our insureds by email, Facebook and Twitter, which I still need to learn. Back in the old days of VHS, I remember one unique claims prevention video we created. It was a takeoff of the Twilight Zone. For some reason, I was typecast as the slimy, crooked real estate developer.
Our claims repair program was well in place when I arrived in 1989. Again, John Beard was of a mindset that it served our insured attorneys better to fix the problem for the client now, rather than sit back and wait for the malpractice claim to be filed, even if that meant Lawyers Mutual had to incur defense costs to help get the train back on track.
Our Insured Lawyers Stick With Us
They know we're in it for the long haul. For example, we just sold a 15-acre farm in Bentonville to the Civil War Preservation Trust. We owned the farm as the result of an error by one of our insureds. That claim was first reported in 1982. The file was already tattered with age when former President Chris Coley handed it to me in 1989. Yet we stayed with it. And in the end we were able to resolve the claim in a manner that preserved a small piece of our state's history. Yes, we have to take profitability and the bottom line into consideration. But without a doubt, we view ourselves as more of a service organization to the Bar than any commercial carrier ever will. Like any insurance policy, you hope you never have to use it. But if you have to, you want a quality product.
Lawyers Mutual is a great company to work for. That is evidenced by the long-term employment of our staff. Our insureds can establish personal relationships with specific staff members over time. Every one of us have relationships with certain attorneys who may just want someone to talk to when they encounter an unusual situation. We're like the sole practitioner's silent partner. We're a sounding board. You don't get that with out-of-state carriers. We're the local folks who have your back.
Over the years we have worked through situations most of our insureds will see only in law school or on the bar exam. Our defense panel is equally experienced, which is why we use them.
Most commercial carriers have a "deny & defend" mode. The corporate mentality here has always been to first ask, "How can we fix this?" As North Carolina lawyers ourselves, I think we have a level of empathy for the insured that you can't get elsewhere.
Not A Minister, But Almost
I have been in private practice. I can personally relate to the insult an insured feels when another attorney questions the quality of their legal work. There is a hand-holding aspect to this job. I tell folks my mama always wanted a Baptist minister and she got an insurance lawyer instead. But Lawyers Mutual is as close as I get to pleasing her.
I went into real estate law because it was one of the few times you ever go to a lawyer and something positive happens. It is the moment folks obtain a piece of the American Dream, and it might be the biggest financial transaction of their lives. I'm proud of my North Carolina Real Estate Bar for its role in protecting folks in these transactions. I'm particularly proud of my fellow real estate attorneys who still view themselves as advocates and attorneys and not just part of a real estate document conveyor belt.
Over the past few years especially, real estate law has been under the gun. I respect the members of the Bar who are hanging on in these tough times and providing a valuable service to the public. I'm honored to be there when they need help.
An achievement I'm proud of? I would say contributing to a period of "détente" between Lawyers Mutual and the title companies. My title insurance and private practice experience gave me a unique perspective. I could view a claim from the perspective of the insured, Lawyers Mutual and the title company. This helped create an environment where we worked things out together to everyone's mutual benefit without resorting to litigation. I view that as my best contribution to Lawyers Mutual and the real estate bar as a whole. In some ways those days are gone. I wish they would return.
Another thing I'm proud of is that even as we've grown and had to deal with tough market forces and economic issues, we've still maintained a hands-on relationship with our insureds.
We're the folks you see at CLEs. We might even be the CLE sponsor. We see our insureds at bar functions and conventions. We serve on bar committees. We've searched titles with you at the deed vault. We can discuss your favorite barbeque joint down east or in Lexington, or we can discuss the newest craft brewery in Asheville or Kinston. We can personally relate to you, your firm and your community. We're one of you.
About the Author