35 Years of Mutual Memories - An Interview with Sharon Frost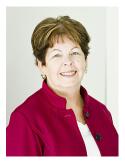 Working for a legal malpractice insurance company requires skill, patience and attention to detail. It also calls for an understanding of how lawyers think and work, and how to help guide them through difficult times. For more than 21 years, Sharon Frost has been doing that at Lawyers Mutual. As a legal assistant in the Claims Department she has seen it all. She appreciates the emotional and financial stress that comes with a malpractice claim. And she knows the satisfaction of seeing a claim successfully resolved.
Following are some of her observations from two decades of dealing with claims:
From Hallmark to Helping Attorneys
I joined Lawyers Mutual in October of 1991. My early work experience was with Hallmark and then I went to paralegal school. I interned for a private practitioner and worked with him for a year afterwards.
I was the last hire at Lawyers Mutual during a period when the company was expanding. Other than two years when I worked for John Beard who was president at the time, my entire tenure has been in claims. I think my prior experience helped prepare me for the position because I was familiar with the terminology and basic office experience. But I certainly have learned many new things by working with the company for twenty-one-plus years.
I wanted to be at a company where people wanted to work. In private practice I got an appreciation for how malpractice could occur. One thing that has struck me at Lawyers Mutual is the letters I see from our insureds. They write after a claim is settled or when defense counsel has helped them in court. They are very appreciative of the work or advice given to them.
No Day Is The Same
One of the ways the Claims Department has changed over the years is going to a paperless system. Even though we still use some paper, opening a new file is so much different than it was when I first began. This efficiency is good for our insureds and our claims attorneys. We scan materials directly to the digital case file.
As a person, I have grown while working at Lawyers Mutual. My job has given me the opportunity to learn different skills such as preparing legal documents and using computer programs. I feel my job has given me more confidence than I have ever had.
No day is ever the same in Claims, which is very good. I enjoy being busy and challenging myself. It seems I am constantly communicating with our insureds and defense counsel, scanning, working on file matters or trying to help improve the way our work is done in Claims.
Lawyers Mutual is a great place to work. The people here are very easy to get along with. For me, that is a positive thing.
We agree that our talented, accessible Lawyers Mutual team – comprised of people like Sharon Frost and her colleagues in the Claims Department – is a positive thing, not just for our company but for all attorneys in North Carolina.
 Got a problem with a case or client? Want more information about professional liability insurance? Give us a call at 800-662-8843 or 919-677-8900 or click here to tap into our positivity.
About the Author