35 Years of Mutual Memories - An Interview with John Q. Beard
If there is one person who can truly be called the face of Lawyers Mutual, that would be John Q. Beard. A founder and past president of the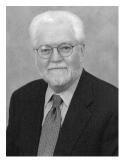 company, he is also a former President of the North Carolina Bar Association and a former member of the NCBA Board of Governors and N.C. State Bar Council. Since the early 1960s, he has distinguished himself as an authority in tax law, business, and trust and estates. But it is not just his legal expertise that makes John Quincy Beard unique. It is his passion – for his family, his friends, his beloved Duke University, his baseball Cardinals, and for doing the right thing – that sets him apart. This passion extends to Lawyers Mutual, which he as much as anyone else helped bring to life and nurture with love and care through its infancy and adolescence to become the strong and shining leader it is today.
Following are some of John Q. Beard's reflections on his 35-year relationship with Lawyers Mutual:
The summer of 1976
In 1976, partly as a result of increased claims, Jefferson Pilot said it was going to increase rates for professional liability coverage. Lawyers were outraged. We argued over prices and Jefferson Pilot said it was getting out of the market. The only companies interested in coming in to our market wanted to increase rates from around $76 to $428 with a promise to double premiums over the next five years.
That summer we decided to start forming our own company.
I remember appearing before the NCBA Board of Governors to discuss this idea. At the annual meeting I introduced resolutions seeking the approval of a steering committee. These were approved by an overwhelming majority.
The 12 members of that steering committee became the founding board of Lawyers Mutual. They included Bill Story, Executive Director of the NCBA; Ace Walker, president-elect of the NCBA; Bill Holdford, president of the Academy of Trial Lawyers; and E.K. Powe, president of the NC State Bar.
In it for the long haul
In late 1977 and early 1978 we began raising funds through a capital campaign. Glen Hardymon prepared an offering circular. We made it easy on people. We arranged for lawyers to be able to go to the bank and borrow the money. You could use your credit card.
If you had been practicing five years or more, we asked for $700. If you had practiced less than five years, we asked for $400. Bill Story, the Executive Director of the NCBA, was a great help to us during the capital campaign and first year. He sent out a weekly list of all NCBA members who had given to the campaign. This proved to be an extraordinarily effective document.
The response from lawyers was extremely positive. I believe all told we had 1,300 to 1,400 members who contributed just under $1 million.
There was no requirement that you had to be a member of the NCBA or help fund the capital account in order to get insurance. Some people grumbled about that. But we said somebody has to step up and be responsible. We argued this project was undertaken as a service to the entire legal community.
What do we do now?
After we raised the money we were like Robert Redford at the end of the movie The Candidate, when he says, "What do we do now?" That was how we felt. We knew nothing about running an insurance company.
But we had people on board with talent and common sense. We believed in what we were doing.
Our first policy was issued in 1978. It was a proud moment. Our Board of Directors met monthly for the first year, then quarterly. Board members had different responsibilities – audit, claims, etc. Our growth was slow initially. Our thinking was conservative.
I was elected the first president. It was supposed to be part-time. But I remember many Saturdays being at the office and answering the phone when a lawyer called.
Our first employee was a part-time book-keeper. Our first full-time employee Connie Crumpler was hired as an accountant. [Connie just celebrated 30 years with the company.] Chris Coley was hired early on to handle claims. Later he became president.
Mainline insurance companies are in business solely to make money. When claims increase across the board, they raise premiums or get out of the market. We were not like that. We were in it for the long haul. Our lawyers knew we are not going to cut and run.
First claim comes in
Our first claim involved the foreclosure of a second mortgage. When it came in the door we were concerned but excited. This was what we were there for. The case went up to the North Carolina Supreme Court where the lawyers were vindicated.
In the early days, we would ask the insured who in their area they were comfortable with handling their claim. This went a long way towards building loyalty.
Claims are always difficult. The personal touch is important. From the start we tried to have a good bedside manner. We are not a typical insurance company. We are lawyers ourselves and are sympathetic to their plight. We understand about things like missed deadlines. We tell our insureds it is important to report problems early. We keep everything confidential.
Another priority from the beginning was risk management. We offer assistance to any lawyer who asks. This underlies our service commitment to the entire practicing bar, not just those who insure with us.
Lawyers helping lawyers
Here today, here tomorrow is more than just a motto. It's what we are about. Loyalty and staying power. We are the only insurance company that has offered coverage to North Carolina lawyers continually over the past 35 years.
Now there are a number of states that have lawyer insurance companies sponsored by their state bars. But we were the very first to do it.
I feel good about the future. Our lawyers recognize this as their company. They know we are here to serve them, and that we're going to stick with them through thick and thin.
I use the phrase that we aren't selling insurance, we're selling relationships. That's what we try to do. We wanted to establish from the start that we were there for our insureds.
Call on us and we'll take care of you. That's what insurance ought to be about. Always.
About the Author