35 Years of Mutual Memories: An Interview with John Hester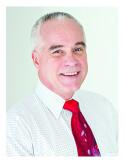 John Hester was Lawyers Mutual's first full-time claims attorney. He was there when the claims legal department consisted of a single desk and shared telephone. Since then he has helped create a claims office that has become a model for other states across the country. A jewel in his department's crown is its Claims Repair program, which boasts a 90 percent success rate and saves the company $2 million each year.
Following are some of John Hester's recollections about the creation and growth of a company that was the first of its kind in the nation.
It Started With a Ringing Phone
"I joined Lawyers Mutual in 1985. I was the tenth employee of the company. There was one underwriter and four of us in claims. We had nearly the same number of insureds as we have now. During my first few weeks, Chris Coley and I shared the same desk by sitting across from each other and taking turns using the telephone. Chris was in charge of claims at that time.
I had two years of private practice, seven years in corporate/insurance practice and two years in public service practice before coming to Lawyers Mutual. The general practice years gave me a keen appreciation of the pressures our insureds face daily. The corporate and insurance years allowed me to establish a Claims Department that followed insurance industry standards. The years in public service practice helped me understand the importance of customer service.
Forged From Crisis
In the mid-1970s the national commercial carriers abandoned the state. This left most attorneys without coverage. The North Carolina Bar Association persuaded Jefferson Pilot, the Bar-approved carrier, to remain one more year while we formed our own company. During that year, the lawyers of North Carolina purchased $1 million in stock to start Lawyers Mutual. So we had a company in place when the last of the commercial insurance providers left the market.
Lawyers Mutual was the first lawyer owned and operated insurance company in the nation. We were an original, a success story. We were viewed as a positive change by other state bars. We set the standard. Over the next several years we assisted other states throughout the nation to form their own lawyer owned companies. We helped them write their policies, establish claims departments and find computer systems.
The commercial carriers abandoned North Carolina due to national and international insurance market pressures. They were only here to make a fast and substantial profit. The mission of Lawyers Mutual was quite different. We were here to provide a stable company committed to maintaining professional liability insurance for our lawyers regardless of market pressures. We are committed to being a customer service company, not looking for a fast profit and equally fast exit when profits drop.
There are always going to be skeptics.  But people like John Beard, Bill Storey and the members of the Bar Association committee who put this machine in motion were not going to be stopped. That committee formed the first Lawyers Mutual Board of Directors.
I was in private practice at the time. John Beard visited almost all 100 counties and spoke about the formation of the new Lawyers Mutual. I purchased a policy from the new company in 1977.  When I received my first policy, I knew this was going to be successful.
Title Searches and File Ticklers
Title search problems in real estate and missed deadlines in litigation – those were 80 percent of our claims early on.
Over the years the most obvious changes have been the complexity and volume of claims. There are many more claims where an attorney becomes involved in a personal business matter with a client. While we do not cover those matters, we do investigate them. Sometimes we can offer advice regarding a defense.
Back then about every four or five years we would see a claim involving a lawyer stealing trust account funds. It seems now we have several matters reported each year where the attorney has stolen from the client. We do not cover those criminal acts.
The defense of a legal malpractice suit is unlike the defense of any other case. Trying the "case within a case" is unusual and requires a specialized defense counsel. We have specialists on our defense panel who have tried and won hundreds of legal malpractice cases. Most of those victories come in pre-trial motions where it is established that the original case had no merit and was never going to be successful. Those defense verdicts have been affirmed on appeal. It would be difficult to ask even a seasoned defense attorney to take on a first-time legal malpractice case and expect a successful result.
Claims Repair and 90 Percent Success
The most successful program implemented by our Claims Department involves something we call Claims Repair. This involves the early reporting of a potential problem and quickly using specialized counsel to undo what has taken place. What can be done immediately to cure a statute of limitations problem? What actions can be taken to correct a title defect? What can be done when it is discovered that proper UCC forms were not recorded to secure a transaction?
We regularly address these types of problems. If reported quickly we can begin to respond to avoid a loss for the client and a malpractice claim for our insured. We have a 90 percent success rate when we engage in Claims Repair efforts. This program saves about $2 million annually.  Our Claims Repair program is such a success that we have shared it with other bar related companies across the nation, where they regularly find similar successes and savings. I am unaware of any national commercial insurance company adopting this program.
Initially Lawyers Mutual was willing to insure anyone regardless of their claims history or risk. Everyone paid the same premium. This seemed to work well in the early years, but as the volume and frequency of claims rose, it could not continue. A substantial majority of the larger losses were the responsibility of a rather small group of insureds. We could not continue to raise rates on all our insureds to pay for the poor performance of a small group. We decided to examine the claims experience and risk exposure of each insured to determine if a higher premium was required or if we needed to stop insuring them. This held true to our mission. It meant we could continue to offer coverage to all attorneys who maintain risk management procedures and avoid losses for their clients.
Milestones and Maintaining Customers
One milestone was initiating the Claims Repair program. Another came when I asked the company to begin a paperless system. That system is now in operation and the benefits are significant, with increased productivity and improved response time to our insureds.
In the early years risk management was a part of the Claims Department. Chris Coley and I would drive throughout the state presenting CLE programs to large and small bar groups. We offered practical experience for attorneys in private practice. This was useful in reducing the risk of claims and losses.
Risk Management is now an independent department with a staff of highly trained and effective professionals who conduct CLE programs reaching thousands of attorneys in every corner of the state. Free on-line services are used by even more insureds. It is all about customer service. Our Risk Management program sets the national standard for providing customer service to our insureds.
Our insureds stick with us. It is exciting that we continue to insure a substantial portion of the attorneys in the state while avoiding the turnover that is experienced by commercial carriers. We get to know our insureds. We offer personalized service. We respond quickly to requests and are proactive. We are available immediately to help.
Sometimes lawyers call us who are insured by another carrier. They say their calls are not returned, or else the other company won't speak with them unless they are sued and have a claim. We don't do business that way.
Treating the Trauma of Malpractice
Over the years I have talked with thousands of attorneys in serious distress. Often attorneys tell me they have not been able to sleep worrying about a matter. They are afraid they are going to be sued, terminated by their firm, lose their law license, receive a grievance, lose their house or experience some other life-changing calamity. When they contact me, my primary responsibility is to calm them down. I assure them everything is going to be resolved without these life-altering events.
If you look at our law license, it says "Attorney and Counselor at Law." A substantial part of my job involves counseling attorneys to help them understand that we can work as a team to resolve any difficulty.
When you call you are going to immediately speak with a North Carolina licensed lawyer, or we are going to return your call that day. We are going to outline a plan to begin to resolve your problem. If needed, we will retain specialized counsel to speak with you that same day. By the end of our initial conversation you will know that our team is working for you. Your stress level should begin to decrease.
Claims Staff is a Cut Above
The claims staff at Lawyers Mutual is stable, experienced and professional. We have two litigators who have more than 15 years experience in legal malpractice and claims repair. We have three real estate attorneys with many years of private practice and title insurance experience. One real estate lawyer has 30 years experience. Rarely does anything come up that they have not already successfully handled. Others on our staff have experience with tax and estates, transactional matters, family law, bankruptcy and other practice areas. If we cannot help you, we will find someone who can.
It's About Relationships
I would say I am not really surprised at the success of Lawyers Mutual. We have all worked hard as a team to maintain this company. We all believe in its mission to support the practicing bar of our state.
Our business is building relationships. I cannot tell you how many fine attorneys I have met while working here for more than 25 years. I consider many of our insureds to be my long-standing friends, even if I rarely have the opportunity to see them personally. We talk about our children, spouse, and sometimes grandchildren. We talk about matters they are concerned about including new associates, unpaid fees and other law firm issues. We can talk about these matters because we are comfortable doing so and because our advice is of interest.
For over 25 years, I have enjoyed coming to work each day. I have an opportunity to speak with excellent attorneys and assist them with problems. Every day brings new challenges and interesting situations. I enjoy helping fine lawyers. Sometimes they call me again many years later and recount how we resolved a matter I've long forgotten. That is truly a pleasure.
About the Author