35 Years of Mutual Memories: An Interview with Connie Crumpler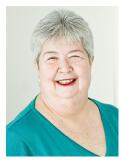 Connie Crumpler has been with the Claims Department at Lawyers Mutual for 30 years – making her the company's longest tenured employee. She tracks claims and keeps a tally on defense costs and loss payouts. This perspective has given her a unique look at the evolution of the nation's first mutual liability company for lawyers and the inner workings of its malpractice claims department.
Following are some of her observations:
The Early Days
Lawyers Mutual was five years old when I joined in 1982. We had three full-time employees then: a claims attorney, secretary, and an accounting assistant. John Beard was president, but he did not work there full-time. I was hired as Director of Accounting. I had previously worked for a bank, stock broker and a retired Air Force Brigadier General. I was also a Certified Meeting Planner. One of my favorite jobs at Lawyers Mutual was planning meetings. I enjoy dealing with details.
Our first office was in the basement of the North Carolina Bar Association Center on Wade Avenue in Raleigh. The Bar Association let us use their equipment and personnel when we needed it. Allan Head always attended our board meetings, and someone from Lawyers Mutual attended theirs.  We worked closely with the Bar Association on special programs for lawyers, including speaking engagements around the state. John Beard and Chris Coley became the faces of Lawyers Mutual with great help from the Bar Association.
From the start, Lawyers Mutual has treated its insureds as people and not just policies. We offer service that the big commercial companies cannot or will not offer. We encourage insureds to call us if they have problems. There has always been an open ear here.
Over the years our focus has not changed. It remains on service to our insureds.
A National Trendsetter
Lawyers Mutual was the first legal liability company in the nation to be formed by lawyers for lawyers. That impressed me.
After Lawyers Mutual stepped up to take the "road not travelled" in professional liability insurance, other states took notice and wanted to try that road themselves. As they began to set up their own companies, they looked to Lawyers Mutual for guidance. The numbers grew. The states decided it would be beneficial to meet at least once a year to discuss their progress and share ideas for growth. This became the National Association of Bar Related Insurance Companies (NABRICO). Membership in NABRICO is a great advantage for Lawyers Mutual and our insureds. The current software we use is a product of collaboration between the NABRICO companies.
Many of our insureds have been with us their entire careers. I believe that means we have done our job. They know that we will do everything we can to help them out of the situation they've gotten themselves into. They also know that we're not going to abandon them just because the insurance industry is going through tough times.
We tell our insureds that we are here today and here tomorrow. We mean that.
The Dread of Malpractice
The emotional and financial toll of a malpractice claim can be overwhelming to a lawyer. No one thinks they are going to commit malpractice, and when it happens they are shocked. I deal with the lawyers personally after we have paid out expenses or losses that impact their policy deductible.
During recent economic times, it has been especially difficult for the smaller firms and sole practitioners to pay their deductibles. Experienced lawyers call me literally in tears because they just don't have the funds. They are overwhelmed and embarrassed. In such cases I see my role as a counselor of sorts. I listen to their stories. I try to reassure them and let them know that they are not alone. Then I work with them to set up a payment plan to meet their needs as well as the company's. I have some insureds who call me if their payment is going to be a day or two late because they appreciate what we do to help them. They don't want to jeopardize that.
Being a local company formed by the Bar Association, we understand our insureds better than the average commercial carrier ever can. We are familiar with the lawyers and the kind of practices they have. We know the law schools they attended and we know their reputations among their peers. Commercial companies that cover many states cannot be that familiar with their insureds.
Claims are handled on an individual basis. We don't bundle claims with similar attributes into one big group and base our defense on what might have worked in other cases. We recognize that each case is unique, and we handle our defense in that way.
During the past 35 years our claims attorney staff has grown from one attorney to seven. These attorneys come from some of the best law firms in North Carolina. Each brings expertise in different areas of practice that enables them to identify with the insured and know how to handle their problems effectively.
Sometimes we have to employ outside counsel. When we do, North Carolina lawyers can be confident they have the best representation available. Sometimes insureds will request a certain attorney to represent them on a claim. If possible, we honor that request.
Preventing Claims Before They Happen
Educating the lawyers of North Carolina has been an important component of Lawyers Mutual's service from the early 1980's. Chris Coley, our first claims attorney [and President from June 1987 to December 1992] visited bar groups around the state and spoke at Bar Association programs.
Lawyers Mutual hired its first Risk Manager in 1990. This formalized and expanded our educational programs. The risk management department offers law office audits and special in-office programs geared to our lawyers' specific needs. Our seminars are recognized by the N.C. State Bar and give CLE credits to attendees.
Education is a way of confirming to our insureds that we care about them and their problems and that we are available to assist them when needed. We can share mistakes that are common in different areas of practice and show lawyers how to avoid them. Education also helps lower the number of claims reported to the company because lawyers are more knowledgeable about how to handle different situations that might occur in their practices.
Fixing Claims After They Happen
Claims repair developed as a natural progression of the reporting process required by our policy. Chris Coley, our first claims attorney, started helping lawyers who would call in to report a claim. He found that oftentimes he could help them fix the problem before it became a full-blown claim. Sometimes we would hire outside counsel to assist with repair. This proved to be something the lawyers really appreciated.
Soon more and more lawyers were calling to take advantage of our claims repair services. This benefits Lawyers Mutual by preventing claims that could become more costly. Claims repair is offered outside of the policy deductible, which is another plus for insureds. This is a service that many commercial companies do not offer.
Growth and Celebration
I don't know if surprised is the right word. Let's say I am excited that Lawyers Mutual has grown from three employees working out of the basement of the Bar Center into a trendsetting company of around 30 people [almost 40 counting subsidiary Lawyers Insurance Agency]. Yet we have maintained a small business feel. We are well respected on the world market and by the other NABRICO companies. The company has proven it has the stamina to maintain its ideals through soft and hard insurance markets. I guess I am most pleased that Lawyers Mutual is known for giving the best service possible to its insureds. That means a lot to me.
Service is something that cannot be bought. We care about our insureds and their situations. Our staff travels all over the state to meet them face to face. We want to know them and want them to know us. We want them to know that we are here to help.
I just celebrated 30 years of employment with Lawyers Mutual. During that time I have seen much growth and many changes. The Bar Association and twelve men had a vision. They followed through with that vision, and now we have a 35-year old company that offers the lawyers of North Carolina something no other insurance company can: service from a company formed by lawyers to take care of lawyers.
Lawyers Mutual is owned by our insureds. We are dedicated to giving them the best return for their premium dollar, and I think we succeed in doing that. Everyone here works together. I don't think I could have worked here for 30 years if this company was only out to make a buck. Yes, we do want to make a profit and maintain a good standing with insurance rating institutions, but that is a byproduct of the service we give our insureds.
I love this company. What else is there to say?
Ernest (Jay) Reeves Jr. is an attorney licensed in North Carolina and South Carolina. He has practiced in both states and was Legal Editor at Lawyers Weekly and Risk Manager at Lawyers Mutual. He writes the Risk Man column of practice pointers and risk management tips. Contact jay.reeves@ymail.com, phone 919-619-2441. www.riskmanlawsolutions.com.
About the Author