35 Years of Mutual Memories - An Interview with Bob Neal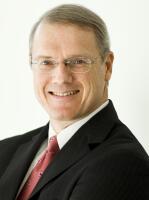 A business is only as strong as its financial foundation. For almost a quarter-century, Bob Neal has been making sure Lawyers Mutual's foundation is rock-solid. In 1990, Bob came to Lawyers Mutual with a background in insurance, auditing and accounting. He puts all those skills to use as the company's Vice-President and CFO.
During his tenure, Bob has seen a sea of change in how liability insurance companies operate. From crunching numbers to computing risk, it is a brave new world of legal malpractice.
Bob's co-workers appreciate his calm demeanor and broad range of expertise. On a given day he might be called upon to calculate a loss ratio, cut a dividend check or repair a laptop. When he's not balancing the books, Bob loves spending time outdoors, going to the gym and being with his family.
Public Accounting and Private Insurance
I joined Lawyers Mutual on March 1, 1990. So this month is my 23rd anniversary here. Previously I had worked for the CPA firm Ernst & Young and for a regional insurance and broadcasting company, Durham Corporation, which owned Durham Life, State Capital and radio stations including WQDR. I was the assistant vice president in charge of its internal audit department.
I came to Lawyers Mutual in the new position of corporate controller.  At the time there was no accounting staff. The previous accountant was available for very short amounts of time to show me the ropes. It was during the year-end closing process. I had the opportunity to wear a lot of different hats.
Now at Lawyers Mutual, I am Vice President, Treasurer and CFO.
Strength in Numbers
Because of my previous work in public accounting and internal audit functions, I was familiar with many different accounting, financial, personnel and insurance related issues. In my previous employment I dipped my toes in database query languages and programming.
Data is really a key part of the decisions that are made in an insurance company. This is true with claims, underwriting and investments. My prior data experience helped tremendously. So did Lawyers Mutual's  claims administrator Connie Crumpler.
Back then, there were approximately eleven people at Lawyers Mutual. I represented the Accounting and Finance area.
When I got here I knew that the company supplied an important service to attorneys in the state. In my time in public accounting I had worked on the independent audit of Lawyers Mutual in the old offices of the NCBA. That was back on Wade Avenue in Raleigh. The space was minimal. Somebody was definitely getting their money's worth on the furnishings. But the people were nice, helpful and professional. Operations were centered on supplying the basics of professional liability coverage at a reasonable price.
Guarantee of Long-Term Success
Although I was not there at the very beginning, over the years I became familiar with how the company got started. I learned about the guaranty capital that was supplied by attorneys and firms in the state. The guaranty capital raised in 1977 was a condition precedent to the opening of Lawyers Mutual. It could not have been done without the support of the NCBA and individual members.
I think that accountants in general love rules. I knew from experience that there was a place for rules in large commercial insurance companies. But as a small company Lawyers Mutual tends to support its insureds first. That sometimes means re-thinking the rules.
With a Little Help From Our Friends
Lawyers Mutual began operations with a lot of help. We used insurance consultants, accounting consultants, IT consultants and others. Over the years, the company has developed and hired a number of talented people. They have reduced the need for outsourcing. This has helped us operate with a large company's efficiency and a small company's dedication to its insureds.
Our mission is to provide professional liability coverage to North Carolina lawyers. We don't make decisions based solely on the bottom line. We always consider the needs and interests of our insureds. We are focused on the long run.
About the Author