Your Ultimate 2017 Christmas Gift List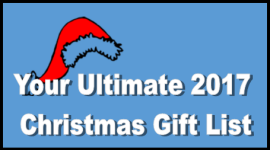 Looking for ideas for your Christmas shopping list? You've come to the right place.
But be forewarned: holiday gifting these days is not like it was 10 years ago – or even 10 minutes ago. For instance, instead of a Red Ryder BB Gun, modern kids want a NERF Rival MXVII-10K Nemesis Blaster. And it's doubtful that in years past you found a Groomarang in your stocking.
Following are Top 20 gifts in three categories: (a) for your partner, (b) for your Secret Santa exchange and (c) for kids. Ho, Ho Ho!
Top 20 Gifts for Your Partner
Purr-fect watch – Feline face and fur band
Spill-proof wine glasses – Don't ruin that special evening
Message coffee mug – Says "ssh," "almost" and "now you can speak"
Mantra band – "You are braver than you believe, stronger than you seem, and smarter than you know"
Trendy candle – Smells almost too good to burn
Shattered glass ceiling necklace – For the badass woman
Work-to-gym bag – Goes with sneakers or heels
Couch cozy wrap – Never goes out of style
Glittery gold frame – Put your sweetheart behind glass
Stacking rings – Dainty but with a personal touch
Couples massage – Relax together
Science tee – NASA on your chest
Fidget cube – Better than the spinner
Home shoe shine kit – Walk proud
Sofa table – Perfect for beer, chips or laptop
Back to the Future license plate – Outta Time
Fido food delivery – For man's best friend
Emoji mug – Express yourself
Groomarang – Beard grooming tool
Stone bookends – Polished agate geode
Top 20 Secret Santa gifts under $25
Stress doll – Designed to be slammed on your desk
Iridescent planter – Shiny terrarium with cut glass
Shimmering slipper – Glittery faux-leather with bow-tie
Monogrammed pouch – Small enough for purse, large enough for essentials
Love is Love dinnerware – Heart shaped in support of Human Rights Campaign
Catnap eyemask – Five layers of handmade fabric
Candy Cocktail – Wine-flavored gummy bears
Bookworm socks – Printed with library card pattern
Cactus de-clutterer – Western flora desk accessory
Avocado grower – Mini-planter for your office
Nailed It notes – For recognizing good deeds
Taco holder- In the shape of a dinosaur
Kitty case – Feline phone carrier
High Five patch – For backpack or jeans
Droid apron – Choose from C-3PO or R2-D2
Pie Face – Ultimate ice-breaker game
Hamilton mix-tape – For those who can't make it to Broadway
Farm-to-table cookbook – For the foodie in your life
Watering can – Pours through elephant snout
Inflatable cup holder – Looks like doughnut with sprinkles
Top 20 Toys
Little Tikes 3-in-1 Sports Zone
PAW Patrol Sea Patroller
Imaginext DC Super Friends Batbot Extreme
Fisher Price Shimmer and Shine Magical Genie Dream Palace
Glimmies Glimtern
Disney Junior Doc McStuffins All-in-One Nursery
You and Me Baby So Sweet Nursery Doll
Disney Pixar Coco Guitar
Power Rangers Ninja Steel Lion Fortress Zord Action Figure
Magic Fairy Princess Fern Wand
Hatchimals Surprise – Pupadee
Wow Wee Fingerlings Interactive Baby Monkey Toy
Oonies
Pikmi Pops Surprise
Powerwheels Boomerang 12 volt Ride On
Project McSmart Pixel Purse
Nintendo Switch Joy-Con Console
NERF Rival MXVII-10K Nemesis Blaster
LOL Surprise Doll
Fur Real Roaring Ivory – The Playful Tiger Pet
Sources: