Young Lawyers At Greatest Risk For Depression, Alcohol Abuse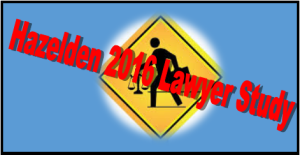 One in four lawyers is struggling with depression, and one in five drinks too much.
And those at greatest risk are younger lawyers – especially ones just out of law school.
These are some of the findings from a groundbreaking report on mental health and substance abuse problems in the profession.
"This long-overdue study validates the widely held but empirically under-supported view that our profession faces truly significant challenges related to attorney well-being," says attorney and Hazelden Betty Ford Foundation clinician Patrick R. Krill, the lead author of the study released earlier this year. "Any way you look at it, this is very alarming and paints the picture of an unsustainable professional culture that's harming too many people."
The research project – which surveyed 15,000 attorneys from 19 states – was a collaboration between Hazelden and the ABA Commission on Lawyer Assistance Programs. It marks the first comprehensive attempt to gather mental health/substance abuse data on lawyers nationwide. Among the findings:
21 percent of licensed, employed attorneys qualify as problem drinkers.
28 percent struggle with some level of depression.
19 percent demonstrate symptoms of anxiety.
Younger attorneys in the first 10 years of practice are at greatest risk.
The last finding – that new attorneys are the most vulnerable – was especially revelatory. Previously it was thought that risk increases the longer a lawyer is in practice.
"The findings represent a reversal of previous research that indicated rates of problem drinking increased as individuals spent more time in the legal profession," says this article.
Click here to read "The Prevalence of Substance Use and Other Mental Health Concerns Among American Attorneys," published in the Journal of Addiction Medicine.
Young Lawyers Doing Good, But Not Well
The study caught the attention of Matt Cordell, who chairs the NC Bar Association's Young Lawyers Division.
"I could regale you with examples of our young lawyers providing pro bono services, feeding the hungry, and improving the profession, but for all the good young lawyers are doing in their communities, young lawyers themselves are not always doing so well," he writes in this blogpost. "A study published earlier this year tells us something new: young lawyers are even worse off than our older counterparts."
Cordell cited some of the reasons members of the YLD, which numbers 6,400 young lawyers and law students statewide, are under siege:
Practicing law is inherently stressful.
People who choose the law tend to be pessimistic perfectionists (a problematic combination).
The profession fosters macho attitudes about conflict and workloads.
Recent law graduates often labor under crushing debt burdens.
Competition and economic pressures on lawyers are increasing.
Higher Rates Than Doctors
The Hazelden project compared attorneys with other professionals, including doctors. It found that alcohol abuse and mental health issues among lawyers occur at "a far higher rate than other professional populations."
The biggest barriers to lawyers getting help are concerns about confidentiality and a fear of being found out.
That makes programs like BarCARES, which offers confidential, free, short-term intervention for lawyers and law students so important, Cordell says.
The bottom line: attorneys suffering from substance abuse and mental distress is a problem that goes beyond the profession.
"Attorney impairment poses risks to the struggling individuals themselves and to our communities, government, economy and society," says Krill. "The stakes are too high for inaction."
Sources: