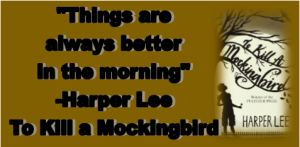 It's taken some time for me to be able to write my personal eulogy to Harper Lee.
I didn't know exactly what I wanted to say. Like millions of others, I read "To Kill a Mockingbird" when I was young. It is not overstatement to say it changed my life.
Having grown up in tiny Kingstree, South Carolina in the 1950s and 60s, I could identify with the setting and characters. I could smell the azalea blossoms. I could feel the summer heat.
The novel was a big reason I chose a career in law. I had no personal experience to draw on. I came from a family of teachers, not lawyers. There were only a handful of attorneys in town, and I knew none of them well. I had never set foot inside an actual law office before attending my first class as a 1L.
Atticus Finch was the only lawyer I had come to know on a deep, intimate level before deciding I wanted to become one myself. And he wasn't even real. He was made-up.
But my late friend and mentor Doris Betts said fiction can teach us truths far deeper than the so-called real world.
And the truth is that this fictional counselor stirred something in me. It made me want to do something good and noble with my life. It made me want to be a lawyer.
It doesn't matter that some modern critics say the book romanticizes a paternalistic and racially-stereotyped view of the South. Nor do I care that the prequel "Go Set a Watchman" – which I feel no burning desire to read – was published to mixed reviews.
And it did not trouble me when one commentator suggested Atticus committed malpractice and blew whatever slim chance his client had of acquittal.
None of that changes how I feel, which is grateful.
I am grateful for a story that I found exciting and suspenseful and deeply satisfying. I am grateful for characters – especially the children – who were interesting and engaging. I am grateful for the novel's depiction of single parenting, many years before I would become a single parent myself.
I am grateful for a character who struggles to balance work and family, who admits when he is wrong, who is tough enough to stand up to armed vigilantes but tender enough to read to his children at bedtime.
I am grateful for Gregory Peck's performance in the movie.
I am grateful for what would become the source material for my final paper in "Literature and the Law" – an analysis of oral advocacy in the Maycomb courtroom – for which Professor Adams gave me an A.
So thank you, Harper Lee, for a story well told. Thank you for giving the world a glittering jewel. May you rest well on Jordan's banks.
"He turned out the light and went into Jem's room. He would be there all night, and he would be there when Jem waked up in the morning."