Why Bruce Lee Never Practiced Law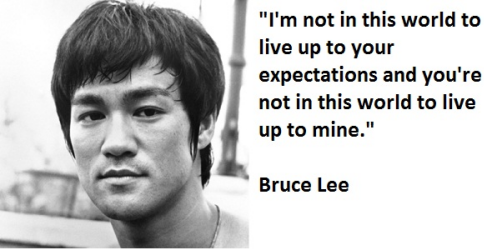 "I'm not in this world to live up to your expectations and you're not in this world to live up to mine."
Those are the words of martial arts master Bruce Lee, who obviously never practiced law.
Kung fu and the law have many similarities. Both rely on concentration, coordination and kicking your opponent into submission.
But whereas the star of "Enter the Dragon" and "Five Fingers of Death" cared not what others thought of him, lawyers live or die by the approval of a certain group of "others" – namely, their clients.
In fact, one veteran attorney says the biggest change in the 50 years he's been practicing has been the expectations of clients:
"Our instant communications world, the instant gratification society that it has spawned, and the incessant advertising mantra that 'you deserve the best' have created clients who expect their lawyers to be available to them 24/7 by phone or Internet," writes New York attorney Seth Rosner, a former Chair of the ABA's General Practice, Solo and Small Firm Division. "They expect us to draft immediately any requested document and have it waiting for them in their inbox by the next time they check their e-mail. In short, they expect instant everything."
Rosner's article, General Practice 50 Years Ago, appeared in a recent issue of GP Solo magazine.
In many respects, Rosner says, nothing has changed in half a century. Solo and small firm practitioners still spend their days helping ordinary people in ordinary situations. Buying a house, preparing a will, getting divorced, paying a bill.
The difference is the speed at which clients expect these services to be rendered. Back in the day, Rosner writes, he might talk with a small business client about a legal matter on Monday, meet personally on Wednesday, begin drafting documents on Thursday, and deliver the final product early the following week.
"Fast-forward 50 years: Same client e-mails me at 10:00 Monday morning to describe the terms of the proposed transaction, calls me at 10:15 to discuss it (she assumes that I have read and digested her 20-page description) and says: 'Can you e-mail me a preliminary draft by 5:00 this afternoon' (note that I did not end this apparent question with a question mark—she meant it as a demand)."
It is pointless to debate whether our warp-speed world is a blessing or a curse. It's just the way it is. And it comes with some corollaries:
* Faster service means faster mistakes. The quicker the product is produced, the greater the opportunity for error. All work must be carefully reviewed. Problems should be dealt with promptly. "Mistakes are always forgivable," Bruce Lee says. "If one has the courage to admit them." 
* Efficiency = Excellence. Technology is your friend. Train your staff to use the new tools. Learn to work smarter, not harder.
* Take control of your destiny. You need not become a slave to the expectations of others. Just because a client demands something doesn't mean you have to be the one to deliver it. You can always say no (politely) and then leave the office early to catch your child's ballgame or squeeze in a late round on the links before the sun sets.
Again, from Mr. Lee: "Do not pray for an easy life. Pray for the strength to endure a difficult one."