What Story Does Your Website Tell?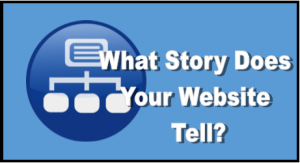 What makes for a great law firm website?
Is it a striking appearance? Stellar content? Data security and mobile responsiveness?
All of the above and more, I'd say. But one factor rises above all others: a winning website should tell a good story.
The story should be compelling enough to draw readers to your site and hold their attention when they get there. It doesn't have to be lengthy. In fact, the shorter the better. If it can be told with pictures only – and no words at all – even better.
And here's the most important thing to remember: you are not the main character in this story. Your clients and potential clients are.
Many lawyers mistakenly make themselves the star of their web story. They tell us about their awards and accolades. They offer numbingly-detailed biographies. They show off their fancy digs.
In so doing, they miss a golden opportunity to show people how their lives can be improved simply by clicking a button or making a phone call.
Ingredients for a Great Site
Sam Glover, founder and editor of Lawyerist, says beyond the imperative of being client-centered, there are no hard and fast rules for lawyer websites. The right design is one that gets the desired results for your firm.
But all great sites share some common characteristics, he says:
They have a personality.
They make it easy on visitors.
They have a well-defined goal.
They highlight a clear call to action.
They are mobile-friendly, meaning they look great even on the small screen of a phone.
They have strong SEO.
10 Best Law Firm Websites
Each year, Glover publishes a Top 10 Lawyer Websites list. Criteria for his selections include best practices for website design, basic search engine optimization and website security.
Here is his 2017 list. One site has an elephant on its landing page. Another evokes images of sherpas in the mountains of Nepal.
But you don't even have to view the sites to find out why they work. Simply reading his comments about the winning sites is a tutorial in web mastery:
Striking front page and bold lawyer bios and copy.
SSL to protect clients' privacy.
Communicates a strong narrative theme.
Gets the basics right.
Bold visuals and a clear brand message.
Tasteful videos.
Not distracting.
Compelling message.
Clean, soothing design.
Polished – exudes competent professionalism.
Clear calls to action – not the usual pop-ups and flashing animation.
So what about your website? What story does it tell?
Sources:
Jay Reeves practiced law in North Carolina and South Carolina. During the course of his 35- year career, he has been a solo practitioner, corporate lawyer, legal editor, Legal Aid staff attorney and insurance risk manager. Today he helps lawyers and firms succeed through marketing, work-life balance and reclaiming passion for what they do. He is available for consultations, retreats and presentations (www.yourlawlife.com). Contact jay@yourlawlife.com or 919-619-2441 to learn how Jay can help your practice.