What is the Managing Partner's Role in Your Firm?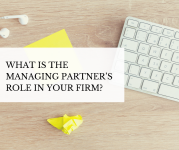 Close to 90 percent of the NC law firms that participated in this year's Managing Partner Summit have a designated Managing Partner or Managing Committee.
That shouldn't be terribly surprising. It was a Managing Partners gathering, after all.
But two-thirds of those firms don't have a formal job description for their Managing Partner. And three-quarters haven't named a successor or figured out what will happen when the current manager steps down.
Those are some of the findings from a survey of firms that attended the inaugural NC Managing Partners Summit back in May.
Leaders from 64 law offices across the state convened at the NC State Bar building in Raleigh to exchange ideas on how to survive – and thrive – in a rapidly changing legal environment.
Speakers talked about succession planning, growth strategies and client development. Panelists swapped ideas on technology, office design and talent management. Attendees brainstormed what works – and what doesn't – in their offices.
"When we learn from each other, all of us benefit," says Camille Stell, Vice President of Client Services at Lawyers Mutual, which sponsored the event.
What is the Job Description for the Managing Partner?
Eighty-eight percent of attendees said their firm has a Managing Partner, and 49 percent have a Management Committee.
But 66 percent have not prepared a Managing Partner job description, 75 percent don't have term limits for the position, and 73 percent have not identified a successor.
Even more striking, a whopping 77 percent said they are not actively identifying, mentoring and training the next generation of leaders for their firms.
What are the Managing Partner's Duties?
One of the most fascinating parts of the survey is the section that asks: "What are the most important duties of the Managing Partner in your firm?"
Answers ranged from creating long-term strategy to handling short-term administrative tasks. Here is a sample of the responses:
Strategic leadership
Financial management
Leading strong-willed individuals to achieve common good
Managing growth in practice areas
Displaying good judgment, thoughtfulness and confidence
Overseeing all operations, including trust and office funds
Being the "holder of the vision"
Dealing with new business
Handling concerns of clients and third-parties
In charge of budget and finance
Setting the tone for client-centered hospitality and service
Firm culture
Providing a vision for future growth while navigating day-to-day obstacles
Fostering cohesiveness and communication
Analyzing business operations
Watchdog
Keeping the ship afloat while anticipating the rocks around the bend (and trying to plan a course around them)
Scouting for new associates
Mentoring associates
Fiscal management
Inspiring trust among attorneys and support staff
Promoting the firm
Facilitating long-term planning
Managing the firm budget
Ensuring operations run smoothly and consistently with the firm's mission
Being accessible to other attorneys and staff
Managing expectations
Managing people
Making sure firm policies and procedures are followed
Providing goals, especially for associates
Helping different practice groups mesh together
Smart decision-making
Team building
Staying abreast of cash flow.
Want to learn about upcoming programs like the Managing Partners Summit? Contact the Client Services Department at Lawyers Mutual.
Source: Lawyers Mutual Managing Partners Summit 2018 Survey