What is Better Than Free?
I love free. Today, I received a coupon for a free Joey Bag of Donuts burrito from the new Moe's opening near me. Last week, I received a $5.00 Starbucks gift card, now I'm looking forward to my free Green Tea Frappuccino.
In your business, you write checks for things that are very expensive. Rent, salaries, overhead expenses and technology just to name a few. At Lawyers Mutual, we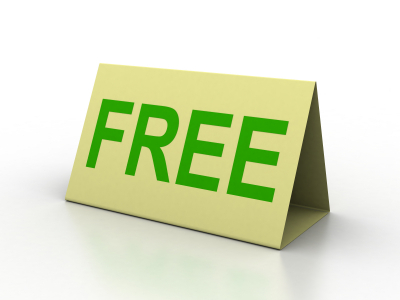 believe in giving you some things for free. Why? Because everyone loves getting something for free, and because we value our relationship with our insureds. We know that by offering you value we'll receive your trust and loyalty. Here's a look at some free things that you can get from Lawyers Mutual.
Free CLE
First, we value education. We believe that the more we do to tell you about your potential malpractice risks, the greater job you can do of avoiding those risks. As a result, we offer all of our insureds 3 hours of free CLE every year. The savings to you is easily several hundred dollars. We make it easy by offering it in your community or partnering with your local bar association to offer the program. Our goal is to provide quality education that is relevant to our insureds.
Another way we promote education is to offer free presentations to your attorneys and staff. We come in for breakfast or for lunch meetings and talk about risk management, ethics and law office management tips to keep you and your staff safe. It doesn't get more convenient. We show up and you walk down the hall to your conference room.
Free Risk Management Resources
Visit our website to take advantage of the many free resources available to our insureds. On our risk management resources page, you'll find handouts, articles, and a lending library of video presentations designed to help you identify the frequent causes of malpractice and avoid them.
Free Toolkits
We have taken our most frequently requested materials and turned them into risk management "toolkits". On the home page of our website, you can access our "opening a law office" toolkit and our "real estate" toolkit. The toolkits include checklists, form letters and tips and suggestions gathered from our claims attorneys, defense attorneys and our insureds. Another popular toolkit can be found on our risk management handouts page, "Closing a Law Practice: Through Retirement, Moving to a New Firm or Death of a Fellow Lawyer".
Free Newsletter and Risk Management Alerts
Each month we send out an email newsletter that offers substance law articles and practice management advice. Our claims attorneys collect their best advice and tips and share them in quick, easy to digest articles. One of the topics we have discussed in several of our alerts and newsletters is the proliferation of email scams. Each time we run an article, we receive telephone calls from insureds that are in the midst of dealing with a scam.
Claims Repair
I've saved the best for last. At Lawyers Mutual, we believe risk avoidance is better than risk management and that helping our insureds avoid claims is better than helping them fight malpractice cases. We have seven claims attorneys who are North Carolina licensed lawyers that practiced in excellent firms who spend time every day talking with lawyers about potential problems.
Two recent cases showcase our successful claims repair program. With the help of one of our defense lawyers in Wilmington, we successfully argued that a default judgment that had been entered against our insured's client should be set aside. Now the case is back on track, and the client is able not only to defend against the plaintiff's claim, but also to assert his counterclaim for damages.
In another other successful repair effort, our outside defense counsel, was successful in persuading the Full Commission to reverse a deputy commissioner's Opinion and Award dismissing our insured's client's workers' compensation claim.
Both of these successful claims repair efforts would not have been possible without prompt reporting of a potential claim by our insured, quick action on our part in recognizing the repair potential and lining up the appropriate outside counsel to do the job, and excellent courtroom work. Not all repair work is completely free, sometimes a deductible will be triggered, depending on the circumstances and what is necessary to repair the claim.
Free is good. At Lawyers Mutual our goal is to provide more than just insurance, we provide value along with peace of mind.