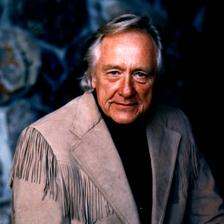 One wintry morning last week I was trudging along a snowy sidewalk in Jackson Hole, Wyoming when I happened to look up and find myself on the doorstep of one of the most famous attorneys in America.
The Spence Law Firm – the home of trial lawyer, author, educator and celebrity Gerry Spence – occupies almost an entire block of downtown Jackson but looks unlike any other law firm you've seen.
Constructed of logs and with a wooden boardwalk running along two sides, its gold-lettered shingle could just as easily read "Long Branch Saloon."
The lawyer who built the firm is unique as well, with his flowing white hair, fringe vests and personality as outsized as the buffalo and elk that roam the alpine valley he calls home.
Gerry Spence gained fame for representing Karen Silkwood – played by actress Meryl Streep in the 1983 movie – and Randy Weaver of Ruby Ridge. He has never lost a criminal case, either as prosecutor or defense counsel, and has not lost a civil lawsuit since 1969.
Among lawyers he is known for founding the Trial Lawyers College – where he shares his advocacy skills and passion for justice – and for books like "How To Argue and Win Every Time."
On that blustery morning my feet were frozen and heavy snow was blowing off the Tetons. There was nothing to do but step inside the Spence Law Firm – as a tourist and admirer – and take a look around.
I did not get to meet Gerry Spence himself – apparently he is somewhere between semi- and fully retired – but came away with the following impressions:
When in Wyoming, act like a Wyomingite. Which in Gerry Spence's case is no act. You sense he is not merely proud of the place where he works – he is a vital part of it. He wears beaded shirts and bolo ties. His office is decorated with Western artwork, statuary, sticks and feathers. He loves who he is and where he lives.
We live in a world of risk. You can't just stroll into the lobby of the Spence Law Firm. There is a locked entrance and security system not unlike what you find in courthouses and public buildings. This of course is understandable. But it is also ironic. A lawyer who has dedicated his life to fighting freedom and open spaces practices behind a thick wall of reinforced plexiglass.   
Be yourself. If Gerry Spence has a mantra, this could be it. In his books and lectures, he preaches authenticity. He rails against phoniness. He says a great lawyer must speak the truth. He believes if you hold fast to your values and fight hard for your client, you can never lose.
Gerry Spence puts on his expensive hand-tooled leather boots one foot at a time, just like you. This is mere speculation, since I've never seen him get dressed. But in its advertisements, the Spence Law Firm offers to represent people hurt in car wrecks, jet ski mishaps and workplace accidents. Just like lots of other lawyers. My guess is that most of these cases will never be made into a Hollywood blockbuster. Some might be downright tedious.
But if he follows his own advice, he will handle each one with integrity and professional care.
That's what makes him a great lawyer.
Jay Reeves a/k/a The Risk Man is an attorney licensed in North Carolina and South Carolina. Formerly he was Legal Editor at Lawyers Weekly and Risk Manager at Lawyers Mutual. He does not own a fringe vest. Contact jay.reeves@ymail.com, phone 919-619-2441.