Top 25 TV Law Shows of All-Time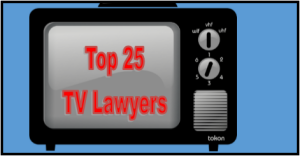 Fictional lawyers on TV are making life tough on those of us who do it for real.
They make it look so easy. They win million-dollar verdicts in their sleep. They prosecute complex crimes in half an hour.
And they also create wildly unrealistic expectations for clients, jurors – and perhaps even ourselves.
"Jurors now expect a level of evidentiary proof that doesn't often exist," said Jonathan Shapiro, a writer-producer for Boston Legal, The Practice and the upcoming series Goliath.  "Sometimes even attorneys believe the fictions are true."
Shapiro, a former federal prosecutor, was speaking at the American Bar Association's annual meeting in August in San Francisco on what he termed the "CSI effect," where the line between fact and fiction is blurred.
"We take some license," said David E. Kelley, a Boston University law graduate and creative mind behind Ally McBeal, Boston Legal, The Practice and other groundbreaking television series, who was also on the ABA panel. "We definitely took some liberties with the rules of professional conduct but I don't think we blazed the trail. We've heard the same thing about closing arguments. Litigation is a grinding, methodical process, and we put it through the time-warp machine to tell our stories."
Why are law shows so popular?
"Americans from the beginning of our culture have loved the law because it relates to all aspects of life, and there's a wish fulfillment that law can help make society better," said Shapiro. "None of the law reviews or law libraries in the country have done what [David Kelley] accomplished with just one of those series."
Top 25 Lawyer Shows
Here are the best all-time lawyer series, as ranked by the ABA Journal:
1. L.A. Law
2. Perry Mason
3. The Defenders
4. Law & Order
5. The Practice
6. Ally McBeal
7. Rumpole of the Bailey
8. Boston Legal
9. Damages
10. Night Court
11. Judging Amy
12. Owen Marshall: Counselor at Law
13. JAG
14. Shark
15. Civil Wars
16. Harvey Birdman, Attorney at Law
17. Law & Order – Criminal Intent
18. Murder One
19. Matlock
20. Reasonable Doubts
21. Law & Order SVO
22. Judd For the Defense
23. The Paper Chase
24. Petrocelli
25. Eli Stone
Sources: