Top 10 Practice Trends Bring Opportunity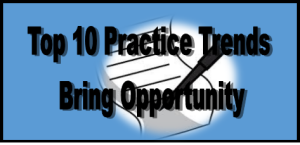 Here's one from the socio-economic record book: for the first time in America's history, four generations are toiling side by side in the workplace.
Which is posing a challenge to the law profession.
"[L]aw firms and legal departments are trying to balance a generation gap of more than 50 years between the oldest and youngest employees," according to The Balance money blog. "Four generations working together in the same work environment present new dynamics. Moreover, the pending exodus of nearly 80 million retiring Baby Boomers and the entry of Generation Z (born between 1991 and 2012) will continue to change workplace dynamics."
The multigenerational lawforce was one of the Top 10 Law Practice trends cited in a recent survey by The Balance. Here are the other nine:
1. E-discovery. Amendments to the Federal Rules of Civil Procedure have widened the scope of discoverable information from e-mails, instant messages, voicemails, e-calendars, graphics and data on handheld devices. The growth of ESI has been explosive, raising the cost and complexity of litigation and changing the face of the process.
2. Social networking. Lawyers are using social media to recruit, job hunt, network, locate and discredit witnesses, manage careers and interact with clients. Tools such as LinkedIn, Facebook, Twitter, and YouTube help lawyers reach a broad audience and hit branding and marketing goals.
3. Legal process outsourcing. "In recent years, the legal industry has experienced a global paradigm shift in the delivery model for legal services," writes Sally Kane in The Balance. "This new model, known as Legal Process Outsourcing (LPO), transfers the work of attorneys, paralegals and other legal professionals to external vendors located domestically and overseas. Legal outsourcing, both onshore and offshore, is transforming law practice as law firms seek to minimize costs, increase flexibility and expand their in-house capabilities."
4. Work-Life balance. New work policies like flex-time, telecommuting, phased retirement, temporary leave, compressed schedules and other alternatives are transforming the law firm environment.
5. Globalization. Firms are creeping like kudzu across borders, both in the US and internationally. Traditional geographical boundaries have been erased, making data security a hot topic.
6. Eco-consciousness. "In response to global warming, economic pressure and eco-conscious clients, law firms across the globe are establishing green initiatives that cut expenses, reduce their carbon footprint and promote social responsibility," writes Kane. "Environmental law or green law is a growing practice area, and firms are establishing niche sub-practices in fair trade, organics, renewable energy, green building and climate change."
7. Virtual law firms. These days it's easier than ever to go mobile and rely on devices.
8. Alternative legal service delivery models. "Lawyers no longer have a monopoly on the law," says Kane. "Clients can seek assistance from a growing number of non-lawyer professionals including paralegal technicians, legal document preparers, legal self-help sites, virtual assistants and offshore legal vendors."
9. Alternative billing models. Fixed fees and flat fees, blended and capped fees. Law firms are exploring alternatives to hourly billing, which is seen as a monument to inefficiency.
What trends would you add to this list?
Source: The Balance https://www.thebalance.com/trends-reshaping-legal-industry-2164337