Top 10 Lawyer Hourly Rates by City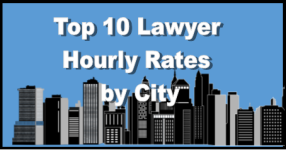 Despite persistent rumors of its demise, hourly billing remains – by far – the most popular fee method for attorneys.
And in some parts of the country – most notably Texas and New York – hourly rates are skyrocketing.
Meanwhile, flat fees continue to be the norm in traffic, immigration and criminal cases.
Those are some of the takeaways from the 2017 Legal Trends Report, which surveyed more than 1 million cases reported by 60,000 users of Clio software.
"Despite growing discussions on flat fees and other value-based billing structures in the legal profession, one of the most important insights to glean from Clio's user data is that the billable hour is still by far the most common method for tracking work and billing clients," according to the report, which you can download here. "When we look at historical data over the past several years, we also see the proportion of hourly fees (about 81–86 percent) billed compared to flat fees has remained virtually unchanged."
Where Flat Fees Are Dominant
Here are the practice areas in which respondents said they use flat fees:
Traffic (90 percent)
Immigration (72 percent)
Criminal (59 percent)
Elder Law (30 percent)
Bankruptcy (29 percent)
Wills and Estates (25 percent)
Case Value by Practice Area
Here are the median fees according to the type of case:
Administrative $813
Bankruptcy $1,200
Collections $450
Contracts $600
Corporate $800
Criminal $750
Elder Law $788
Family Law $1,538
Immigration $950
Juvenile $538
Real Estate $535
Small Claims $478
Traffic $300
Wills & Estates $750
Top 10 Hourly Rates By City
Don't mess with Texas when it comes to hourly rates. Law firms in the Longhorn State – mostly big firms that represent corporations – are hiking their rates as much as 10 percent, with dozens of firms smashing the $1,000 per hour threshold.
"Scores of Texas lawyers now charge $1,000 or more per hour for their legal services," reports the Houston Chronicle. "Another 200 business attorneys in the state are likely to cross the $1,000-an-hour threshold over the next three years. Businesses across Texas received letters during the past few weeks from the law firms that represent them delivering news of the higher rates."
Nationally, rates are rising as well. Here are the Top 10 average rates by city:
New York City $344
Los Angeles $324
Chicago $312
Miami $310
Washington DC $304
Dallas $300
Atlanta $293
Boston $278
Houston $276
Philadelphia $245
And here is a breakdown of individual lawyer rates by practice area:
Immigration $340
Intellectual Property $318
Tax $308
Real Estate $304
Trusts $301
Insurance $186
Mediation and Arbitration $162
Workers' Compensation $150
Medical Malpractice $149
Juvenile $86
It bears repeating that these results are from a national survey of Clio users. How do these findings correspond to your personal experience?
Sources: