Tis the Season: Top 5 Gifts for the Lawyers in your Life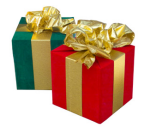 The holiday season is in full swing. What do you plan on getting the lawyers you love? If you're looking to jingle their bells with a little more than personalized stationery and a new tie, check out these gift ideas:
1)      Tile: No I'm not talking about redecorating their home, but helping them organize their life. Tile is the ideal gift for the lawyer that's tech-savvy and a little forgetful. Attorneys are constantly trying to balance several tasks at one time. Put their mind at ease with the handy tile device. Tile allows them to track their valuables; everything from keys, laptops to their cell phones.
2)      Wine Club Membership: This is one "bar related" gift that won't cause your lawyer loved one to cringe. In fact, it will put a smile on any wine lover's face. The ABA Wine club gives access to renowned wines from around the world, tasting notes, discounts and much more. This gift is a great way to spread a little holiday "cheers."
3)      Mobile Gadget Charger: Attorneys are always on the go. Help the attorney in your life stay powered up on the go with this "Power Cup" charger. It looks like a coffee cup, but it's ready to power up all their devices.
4)      Briefcases: Every lawyer loves a good briefcase. Whether your loved one is a new lawyer or has been in practice for years, there's always room for another briefcase. Check out legalsupply.com for bag ideas.
5)      Make it Personal. You can personalize almost anything these days. Personalizationmall.com has so many neat ideas to choose from. From personalized canvas art for the office to bookends, they have you covered.
I hope this list helps you as you finish up (or in some cases—start) your holiday shopping. We would love to hear your gift ideas!
Monisha Yowell is the Marketing Coordinator for Lawyers Mutual. Monisha connects Lawyers Mutual with our insureds and the legal community through the use of social media. You can reach Monisha at 800.662.8843 or monisha@lawyersmutualnc.com.