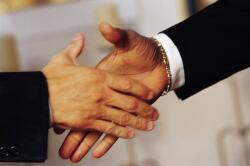 There are many benefits – social, financial, emotional and otherwise – to joining a firm.
Starting off right is the key to a long and happy relationship. Here are some tips for doing just that:
 Ask questions. One great benefit of practicing in a firm is having people around who know things you don't. At one time or another they probably were in your position. So don't be afraid to approach them for answers. Talk to other lawyers, secretaries and assistants. Even the firm messenger will have valuable information.
Watch others. Take advantage of the wealth of experience around you. Too often firm members practice like tiny islands. Watch colleagues at work. Swap ideas back and forth. Attend important events together. Imitation is the sincerest form of flattery.
Make your own rain. A common mistake made by lawyers who join a firm is assuming they no longer have to worry about getting new clients. That might be the case in your firm. But even firms with a long list of active clients are always looking for good new business. Bringing this in will make you indispensable.
Make time for pro bono work. A lawyer should perform 50 hours of pro bono work each year, according to the American Bar Association's Model Rules of Professional Conduct. As an incentive, the ABA challenges firms to contribute three to five percent of annual billable hours to pro bono activities. It suggests that firms count pro bono or public service work towards a lawyer's billable hour requirements or at least give some credit for time spent on pro bono work.
Maintain balance. Juggling career, family and personal time is not easy. Young associates are eager to please and should avoid sacrificing personal life for the firm. Finding balance early on will be easier than changing your lifestyle down the road. Practice time management. Schedule personal time as you would an important client appointment. Use an organizing system such as a manual or electronic calendar – and follow it. Don't take on more than you can handle. Learn to say no.
Be a good boss. Management skills are honed through practice. Delegate appropriate work to your secretary or paralegal. Encourage teamwork. When the answer in a civil suit has been dictated, is the task complete? Hardly. Someone has to physically produce the paperwork, photocopy and collate it, and deliver it to the courthouse for filing. The job is complete only when the final task has been done. Learn to follow things through. Your support staff can help you protect your law license and avoid malpractice. Respect others who work with you and build a base of loyalty.
Become a leader. Leadership skills are developed through practice. Learn to delegate, prioritize and organize. Assume leadership by volunteering for projects or committees that others might not enjoy or have time for, such as recruiting and staff liaison. Experience in committee work will also enlighten you as to firm politics. Volunteer to form a noontime jogging group or help organize the Christmas party.
Find a mentor. Good law firms have good in-house mentoring programs. Well-trained associates and new partners get up to speed quicker and make fewer mistakes with such a program. Mentoring fosters better communication, improved morale and a sense of continuity within the firm. If your firm does not have such a program, go out and find a mentor on your own. A good mentor will spend time listening to you and sharing ideas and cautionary stories. A good mentor will sacrifice some billable hours in order to shape you into a better, more effective lawyer by letting you tag along to court, client interviews and depositions.
Make a name for yourself. Develop an area of specialty on your own time by reading new case law and following trends. Volunteer your time. For example, if you work in family law, offer free legal service to the local homeless shelter.
Develop verbal skills. As a new associate, you might not find yourself in the courtroom right away. To continue developing skills learned in law school or moot court competition, volunteer for public speaking opportunities. Business schools, paralegal programs and community colleges often seek qualified attorneys to teach evening courses. Call your local chamber of commerce for names of organizations looking for guest speakers.
For more information, visit our website www.lawyersmutualnc.com and click on Risk Management ."

Jay Reeves a/k/a The Risk Man is an attorney licensed in North Carolina and South Carolina. Formerly he was Legal Editor at Lawyers Weekly and Risk Manager at Lawyers Mutual. Contact jay.reeves@ymail.com.