Time to Stop Thinking Like a Lawyer?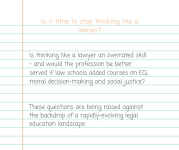 Is thinking like a lawyer an overrated skill – and would the profession be better served if law schools added courses on EQ, moral decision-making and social justice?
These questions are being raised against the backdrop of a rapidly-evolving legal education landscape.
In recent years, a handful of for-profit law schools – including Charlotte School of Law – have either closed their doors or been stripped of ABA accreditation. Meanwhile, the LSAT has come under fire for being biased and discriminatory, and a growing number of law schools – Wake Forest among them – have begun accepting GRE scores in lieu of the LSAT.
And in a Gallup survey, close to half of new law grads – including many burdened with student debt of $100,000 or more – said their JD wasn't worth the cost of their legal education.
It is unsurprising, then, that some thought leaders say it's time to overhaul the way lawyers are educated. University of San Francisco law professor Joshua Rosenberg, for instance, says schools should train lawyers in human relationships. In this law review article, he says students should be taught how to deal with feelings as well as thoughts.
Practical Experience is Needed
The "think like a lawyer" approach is outdated, writes Mary Juetten in this ABA Journal article. Prior to getting a law license in the US, she was a professional accountant in Canada for many years.
"We had an articling requirement, which is a term for a supervised work experience. My friends who became lawyers in Canada at the time also had similar articling requirements. I believe that we need to adjust the U.S. law school experience to include a comparable, supervised practical experience component."
Juetten surveyed other countries and found that none allow lawyers to practice without some type of supervised work practice after law school.
"Mexico has a non-mandatory one- to three-year internship but requires some social work experience," she writes. "The UK demands at least one year for barristers and two for solicitors and Australia has practical education beyond law school plus work experience ranging from three to six months. Other countries' requirements range from six months in Chile; one year in France; one to two years in Ireland; 18 months in Italy; two years in Germany; and three years in both Hungary and the Netherlands. All of these countries have similar education requirements as the U.S., but supplement that with practical experience to better prepare graduates to serve clients."
"Critical Legal Realism" Is Required
"The not-so-hidden message that law professors give to their students is that to be a lawyer one must 'think like a lawyer,' even if that means suppressing one's compassion, idealism, and concern for truth and justice," Princeton law professor Stephen Wizner writes in this law review essay. "To 'think like a lawyer' means adopting an emotionally remote, morally neutral approach to human problems and social issues; distancing oneself from the feelings and suffering of others; avoiding emotional engagement with clients and their causes; and withholding moral judgment."
The result, says Wizner, is that most graduates enter the profession with a strong desire for financial security but only a vague sense of their ethical obligations to the public.
"The training of students to 'think like lawyers' may very well have contributed to the erosion of professional values by implicitly authorizing students to become amoral, technically proficient advocates," he writes.
Wizner calls for a new "critical legal realism" that augments the traditional law school curriculum with instruction on social justice, public welfare and the obligation to serve the poor and disadvantaged.
"Moral exhortation alone is not effective education," he writes. "Virtue, like proficiency in legal analysis and advocacy, comes from understanding, insight and practice. It must be incorporated in the educational process by which law students become lawyers."
Sources: