The Top Podcasts For Lawyers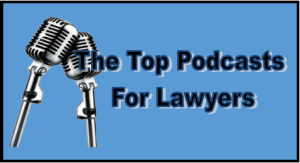 A few years ago, a friend introduced me to the many pleasures of podcasts, and I've been hooked ever since.
It started with Marc Maron and took off from there. Now I schedule podcasts as a daily treat, but of course there's never enough time to listen to them all.
The great lure of podcasts is their portability. These little audio shows can be enjoyed at my convenience while driving, jogging or soaking in the bathtub.
Because of my fandom, I was excited to read the ABA's list of top law podcasts. Here it is, with comments from ardent listeners, as reported in the ABA Journal:
So what podcasts would you add to the list?
Source: ABA Journal www.abajournal.com/magazine/article/best_law_podcasts_web_100/P1
Jay Reeves practiced law in North Carolina and South Carolina. During the course of his 35- year career, he has been a solo practitioner, corporate lawyer, legal editor, Legal Aid staff attorney and insurance risk manager. Today he helps lawyers and firms succeed through marketing, work-life balance and reclaiming passion for what they do. He is available for consultations, retreats and presentations (www.yourlawlife.com). Contact jay@yourlawlife.com or 919-619-2441 to learn how Jay can help your practice.