The Three Hottest Areas of Practice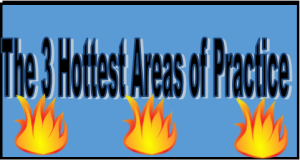 Healthcare and corporate transactional law are hot practice areas that are expected to get even hotter in 2017.
Intellectual property – which cuts a wide swath across entertainment and technology – is also booming.
Meanwhile, tried and true areas like real estate and criminal law are holding steady.
Those are some of the observations of Los Angeles legal search consultant Valerie Fontaine, author of The Right Moves: Job Search and Career Development Strategies for Lawyers.
Fontaine was interviewed for a recent episode of the American Bar Association's podcast Asked and Answered.
Following are excerpts from that interview:
Top career tip for law students. I think students should pay attention to what classes interest them, and perhaps in their clinical experiences, what they like. And they first need to decide whether they want to be a litigator or a transactional lawyer. Those are sort of the two big divides when it comes to law practice. And usually you're one or the other. There are some areas of practice where you get to do a little bit of both: say, labor and employment where you might litigate, but you also might advise or do employment agreements. But in most cases you're either – as one of my friends from law school said – a dealmaker or a deal breaker.
Booming practice areas. IP or intellectual property generally is good because that's just always booming in every area of our lives. There's so much developing, in terms of technology and healthcare and content and entertainment, and all those things have intellectual property aspects to them. People who used to just be in the delivery systems are now wanting to make their own content. So there's a lot of IP and tech transactions that are going on, and those are just continuing to grow, as technology develops. Real estate is hot. As legal recruiters, our clients are mostly in the large-to-mid-sized law firms, and their clients are usually businesses. So what we are looking for are commercial and multi-home development, investment, and construction, rather than single-home real estate transactions.
Areas that are tried and true. There are always areas that are evergreen, like criminal law, family law and wealth management. Those are sort of the mom-and-pop areas of law where everyday people need representation all the time. And there's usually something going on in labor and employment. It changes over time, whether it's wage-and-hour class actions [or] classifications of workers. That's also an evergreen.
On the domino effect and how to make your career recession-proof. Areas that are hot right now may be completely cold in the future, and vice versa. But right now and for the foreseeable future, real estate and corporate transactional are absolutely hot. It's always good to be recession-proof as much as you can. If you are doing real-estate finance deals, you also want to make sure you know how to do restructuring and insolvency. You want to know how to do the other side because practice is cyclical because the economy is cyclical. So when there is a building boom, there's a lot of construction contract work and finance work to be done. Then the other side of that is, besides the restructuring and insolvency and foreclosures, if there's been a lot of building very quickly, there's going to be construction-defect cases. And when there's construction defect, insurance companies are going to fight over who has to pay for that, so there's insurance coverage issues. And you have to kind of look at the domino effect. Where might that be leading?
What to do if you get burned out and want to try a different practice area. I would say [take] MCLE courses in different areas of law to see what might interest you and hear other practitioners talk about what their practice is like. Getting involved in bar association or volunteer pro bono opportunities lets you get your hands on doing different kinds of law to try them out. So there are different ways to do some exploration. But no matter what, I would always advise lawyers to not give up what they have before they've got something else. If there's a way to sort of organically evolve your practice into a different area, see if you can get an assignment or two in that other area of practice and see if you can volunteer to help, and sort of get a taste of it. And then you can grow in that direction.
What are your thoughts? What areas do you think have the best- and worst – prospects in the near future?
Source: ABA Journal http://www.abajournal.com/news/article/podcast_monthly_episode_67?utm_source=internal&utm_medium=navigation&utm_campaign=most_read