The Sweet, Shared History of Baseball and the Law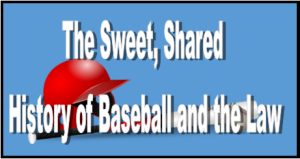 As cries of "Play Ball" echo across parks throughout this great country, let's pause a moment to consider how America's game has been shaped by the law.
We could start in 1920, when former federal judge Kenesaw Mountain Landis was named the game's first commissioner, charged with cleaning things up after the catastrophic and near-fatal Black Sox Scandal.
Or we could go back two decades earlier, when a blue-ribbon commission was appointed to decide who could lawfully claim the title of inventor of this grand new game. After laboring three years, the panel declared Civil War hero Abner Doubleday to be the official "Father of Baseball." This came as a surprise to Doubleday who said, "I never knew I invented it."
Or fast-forward to the present day, where lawyers and agents called foul after on off-season that saw some of the biggest names in the game being shunned as free agents, sparking claims of collusion and predictions of labor strikes to come.
The history of baseball is replete with legal clashes, claims and case studies that reveal the best and worst of human behavior. Heroism, amazing feats, selflessness. Lies, betrayal, cheating. It's all there on the diamond.
6 Stories of Baseball and the Law
Here are six fascinating examples of the intersection of baseball and the law:
Chicago Black Sox

.

Shoeless Joe Jackson and seven of his Chicago White Sox teammates were banned from baseball for life for accepting bribes to throw the World Series. Jackson's grand jury testimony – in which an uneducated, plain-spoken ballplayer from South Carolina expressed remorse and begged to continue doing what he loved – would move even the most hardened prosecutor. Alas, none of the eight ever played again.
Baseball cards and antitrust law. Until the early 1970s, Topps was essentially the only game in town when it came to the manufacture and sale of baseball cards. Then came litigation from Donruss, Fleer and other companies alleging Topps had a monopoly, in violation of antitrust laws. Now lots of companies have a piece of the pie, and sports cards have grown from a collector's hobby to a big business.
Curt Flood

.

He began his career as a superb All-Star center fielder. When it ended, he had become one of the most notable figures in U.S labor law history. In 1969, Flood refused to accept a trade from the St. Louis Cardinals and asked Commissioner Bowie Kuhn for the right to become a free agent. Kuhn sided with the Cardinals, saying Flood had no rights because of the reserve clause in his player's contract. His appeal went all the way to the Supreme Court. And though his challenge was unsuccessful, the door had been opened, and it was not long before the reserve clause was abolished and free agency was born.
Jackie Robinson

.

Is there anyone alive who doesn't know Mr. Robinson was the first African American to break baseball's color barrier when he took the field as first baseman for the Brooklyn Dodgers on April 15, 1947? If so, the excellent biopic 42 awaits your viewing.
George Brett

.

The Hall-of-Famer from the Kansas City Royals is the only player to win batting titles in three different decades. But in 1983, he made history by hitting what was initially ruled a home run off Goose Gossage. But the dinger was negated and Brett declared out when his bat was found to have too much pine tar, in violation of MLB rules. The ruling was subsequently overturned and the game resumed, with the Royals eventually winning.
Pete Rose. Baseball's all-time hits leader was permanently banned from the game for gambling on baseball games while he played for and managed the Cincinnati Reds. He allegedly bet on his own team. In 1991, the Baseball Hall of Fame voted to permanently exclude Rose from induction. He continues to fight for reinstatement, and debates rage about whether he should be pardoned or not.

What baseball law stories would you add to this list?