The Pros and Cons of Billing for Initial Consultations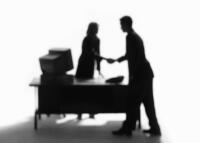 Should lawyers bill for initial consultations with prospective clients?
That question has sparked a lively debate on ABA LinkedIn. Opinions are coming in from all over the country. They are also all over the board.
The query was posted by Law Business Mentors, which says lawyers should always charge for meetings with new clients.
"The free initial consultation is often not valued or taken seriously by your prospects," writes Law Business Mentor Alexis Neely. "They see it as you trying to sell them something and them shopping around for the best deal."
The result: people fishing for free advice, not showing up for appointments or otherwise wasting your time.
The solution, according to Neely: don't call the first meeting a free consultation. Give it a name, a purpose and a value. For example, she recommends that estate planners offer a "Family Wealth Planning Session" to discuss what happens to your property when you die and what can be done about it now. Price: $750.
Business lawyers can call their initial meetings "LIFT Start Up Sessions" to identify key legal, insurance, financial and tax issues with new clients. Price: $1,250.
To Charge or Not to Charge?
Here is a sampling of lawyer feedback on the topic:
I don't care how you label the meeting, if you say you are charging for an initial consultation, most people will not meet with you. In order to sell your services you have to get them in the door, you need to meet with clients. Personal injury clients definitely will not pay given all the firms that advertise "you don't pay unless we recover." Granted time is wasted because people fee shop or do not have problems you can solve. That is the cost of doing business. Rich V.
I do make a policy of charging for the initial consultation. I have tried it both ways and find that when I did not charge my time was being wasted by "shoppers," who sometimes would even offer me the other opinions that he or she had received on another free consultation visit to another attorney. Wesley S.
I charge one hour of my time for an initial consultation and they get one hour of my time. About 90 to 95 percent pay the retainer and sign the agreement before the end of the initial consult. Shawnah C.
I charge for the initial consultation because my loan is due each month! Pamela W.K.
Having worked, long ago, at a firm which had a Yellow Pages ad (I date myself) and having a small on-line public presence, it's clear to me that the time spent screening and conflict-checking and talking to shoppers and looky-loos in free consultations outweighs the potential benefit. Richard G.
As a family law attorney in one of the most competitive markets in the country, I charge for my consults, which generally last about an hour and a half, and which impart substantial amounts of useful information, rather than being a sales pitch. Wayne A.B.
Maybe the answer is to provide a brief, very brief, phone consult to cull out the real clients from the free advice seekers (or fee shoppers, they are really the same thing) and then to invite an office visit with the expectation that a retainer will be paid to engage your services. Jim S.
I do a free initial consultation but only listen to the person's legal issues and then tell them whether I can help them or not. I'm not there to give legal advice, just listen and determine whether I can work with them. I will only do this meeting at my office and never by phone. Richard C.
In my practice, it depends. For personal injury claims, I do free initial consultations. In other civil cases, I normally charge for my time at my usual rate. I do a lot of initial consultations in employment cases. There is a lot of demand and I charge a two hour minimum. If they are not willing to cough up somewhere between $50 and $100, I would not rely on them to have any commitment to their own case. Robert W.
I charge a consultation fee of $100 per hour which is a discount off my normal hourly rates. I use to do free consultations but learned that a lot of times people just wanted to talk and the really did not have a strong claim. If someone cannot pay a consultation fee, they likely cannot afford any type of retainer. Barry H.
What's your policy on initial consultations? Drop us a comment. We'd love to hear from you.
Jay Reeves a/k/a The Risk Man is an attorney licensed in North Carolina and South Carolina. Formerly he was Legal Editor at Lawyers Weekly and Risk Manager at Lawyers Mutual. He enjoys declining his children's requests for money. Contact jay.reeves@ymail.com, phone 919-619-2441.
Sources: