The First To-Do List For New Lawyers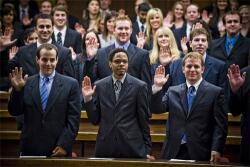 Congratulations! You've finished law school and passed the bar exam. Now you can forget about the Rule Against Perpetuities forever and begin a long and satisfying career.
The first thing is to frame your diploma and bar license if you have not already done so. These documents are tangible evidence of your sweat, effort and dedication. They should always be visible reminders of how hard you worked to get here – and how important it is to keep striving.
Following are some items that should appear on every new lawyer's to-do list:
Attend a professional orientation program. The N.C. Bar Associations conducts a Practical Skills Course each fall. The week-long event provides valuable training on practical aspects of law practice plus social opportunities for networking. Some county and district bar associations offer similar programs (Wake County's Bridge-The-Gap being a notable example).
Learn how your office works. Perhaps your office has an in-house orientation program. If so, consider yourself lucky. If not, educate yourself. Review the office procedures manual. Ask about office hours, dress code and job expectations. Learn the case management procedure. Ask to shadow a senior lawyer. Sit in on client interviews. Assist in opening a file. Learn how basic procedures are handled: docket control, conflicts of interest, trust accounting and time billing.
Join the local bar. This is an often-overlooked risk management resource. You will meet colleagues and prospective mentors. Join a committee and volunteer to stuff envelopes.
Join a statewide group. The Young Lawyers' Division of the N.C. Bar Association is a great place to meet peers who share your ambitions and anxieties. The NCBA has dozens of practice sections that publish newsletters and sponsor CLE programs and educations events. Other resources include the N.C. Academy of Trial Lawyers and the N.C. Association of Women Attorneys.
Relax. Nobody just starting out has all the answers. Simply finding your way to the courthouse might be a great accomplishment. Don't feel you have to be an instant expert. Above all, don't take on matters you have no business handling. Learn to say no. Ask for help when needed. Don't accept cases outside your expertise or comfort zone.
Give some time away. At first you might have more time than clients. Take advantage of this luxury. Ask other lawyers if you can help out on cases. The hands-on experience will pay off later. Go around and introduce yourself to other lawyers. Ask for referrals. Participate in pro bono activities. Donate some time to your local Legal Services office. Or contribute your energy to the Rotary Club or the PTA. Strap on a tool belt and hammer nails for Habitat For Humanity.
Know your State Bar. You should not hesitate to call on the State Bar with ethical concerns. Expert ethics attorney are waiting to help you. Go online and review the latest ethics opinions. Keep a copy of the Rules of Professional Conduct on your desk. Get to know about the various State Bar programs, such as Specialization, PALS and FRIENDS. Know the rules on Continuing Education and stay current with your hours.
Obtain malpractice insurance. If you have joined a firm, make sure that you have been added to the policy. Get a copy of the policy and read it. If you are a solo, keep the policy in a safe and secure place.  Understand your obligations under the policy. Know what "claims made" means. Know whom to contact if you have a problem. Know that Lawyers Mutual has a claims repair program and a risk management department, which are there to help you navigate through practice minefields.
For more information, follow us on social media: Twitter, Facebook, & LinkedIn.