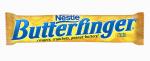 Want to attract more clients? Stock your waiting room with Butterfinger bars.
It's the most popular candy in North Carolina, according to this survey.
And if you run out of Butterfingers, no sweat. You can safely substitute Reese's Peanut Butter Cups, which are uniformly beloved across the nation.
But if your new client happens to come from South Carolina, be sure to offer them candy corn. That's the caloric confection of choice in the Palmetto State.
From Airheads to the Milky Way
I'm a sucker for a good survey. And if the subject is candy – well, even sweeter.
That's why I was so happy to learn that the product review site Influenster had polled more than 40,000 people from Maine to Hawaii on their Halloween candy preferences. Finally, some hard data on soft taffy.
Here are some of the results:
Candy corn was the top pick in five states — Oregon, Wyoming, Texas, Tennessee and South Carolina. No other candy finished first in that many places.
Reese's cups won the popular vote (with 4,348 votes) but carried only two states (Connecticut and Rhode Island)
Twizzlers is the favorite treat in Kansas.
Airheads is number one in Alabama.
And Pixie Stix (really?) is tops in Georgia.
Favorite Candy by State
Here's the state-by-state sweets breakdown:
Alabama: AirHeads
Alaska: Snickers
Arizona:  Toblerone
Arkansas: Skittles
California: Life Savers 
Colorado: Milky Way
Connecticut: Reese's Peanut Butter Cups
Delaware: 3 Musketeers
Florida: Nestlé Crunch
Georgia - Pixy Stix
Hawaii: 100 Grand Bar 
Idaho: Butterfinger
Illinois: Snickers
Indiana: Reese's Pieces
Iowa: Twix 
Kansas: Twizzlers
Kentucky: Whoppers
Louisiana: Swedish Fish
Maine: Starburst
Maryland: Almond Joy
Massachusetts: Starburst
Michigan: M&M's 
Minnesota: 100 Grand Bar
Mississippi: Hershey's Kisses
Missouri: Hershey's Kisses
Montana: Kit Kat
Nebraska: Skittles
Nevada: Jolly Ranchers 
New Hampshire: Tootsie Rolls 
New Jersey: Sour Patch Kids
New Mexico: 3 Musketeers
New York: Sweetarts 
North Carolina: Butterfinger
North Dakota: Sour Patch Kids 
Ohio: Milky Way
Oklahoma: M&M's
Oregon: Candy corn
Pennsylvania: Swedish Fish
Rhode Island: Reese's Peanut Butter Cups
South Carolina: Candy corn
South Dakota: Laffy Taffy
Tennessee: Candy corn
Texas: Candy corn
Utah: Nerds
Vermont: Almond Joy
Virginia: Reese's Pieces
Washington: AirHeads
West Virginia: Oreos
Wisconsin: Laffy Taffy
Wyoming: Candy corn
District of Columbia: Twix
So the next time you're negotiating with a lawyer from Utah, offer them Nerds. And you should always carry around a pack of Life Savers in case you run into anyone from California.
Just be sure and keep plenty of Butterfingers in the break room. You want to keep the home team happy, after all.
Sources:
Influenster https://www.influenster.com/
Jay Reeves a/k/a The Risk Man practiced law in North Carolina and South Carolina. He is a former Legal Editor at Lawyers Weekly and Risk Manager at Lawyers Mutual.