State Lawyers Pitch in After Hurricane Matthew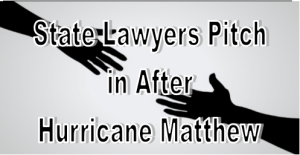 The N.C. Bar Association is partnering with FEMA, Legal Aid and the ABA to provide legal assistance to victims of Hurricane Matthew.
Low-income residents affected by the storm can call a toll-free hotline at 1-800-662-7407 with legal questions.
"Callers should identify that they are seeking Hurricane Matthew-related legal assistance, ask for Disaster Legal Services and identify the county in which they are located," says this NCBA news release. "Survivors who qualify for assistance will be matched with North Carolina lawyers who have volunteered to provide free legal help."
Just as the flood waters continued to rise for days after the storm had passed, a myriad of legal problems are expected to surface in the aftermath. Some examples:
Assistance with securing FEMA and other benefits available to disaster survivors;
Assistance with life, medical and property insurance claims;
Help with home repair contracts;
Replacement of wills and other important legal documents destroyed in the disaster;
Assisting in consumer protection matters, remedies and procedures;
Counseling on mortgage-foreclosure problems;
Counseling on landlord/tenant problems;
Applying for and obtaining a low-interest disaster loan from the U.S. Small Business Administration.
The hotline is available weekdays from 9 AM to 4 PM. Callers who qualify for assistance will be matched with a North Carolina lawyer-volunteer to provide free, limited legal help. Callers with fee-generating cases will be referred to a lawyer referral service.
23 Counties in Crisis
There have been 23 North Carolina counties approved for federal assistance. They are: Beaufort, Bertie, Bladen, Columbus, Cumberland, Dare, Duplin, Edgecombe, Gates, Greene, Harnett, Hoke, Hyde, Jones, Johnston, Lenoir, Nash, Pender, Pitt, Robeson, Sampson, Wayne and Wilson
FEMA and the NC Attorney General's Office are warning residents of the risk of fraud and scams. Common schemes include phony housing inspectors, fraudulent building contractors, bogus pleas for disaster donations, and fake offers of state or federal aid.
The State AG 's Office has a consumer protection hotline at 1-877-566-7226.
Sources: