Stairway to Heaven and Rock and Roll Plagiarism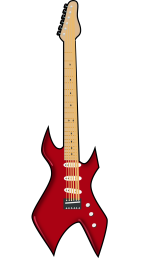 The Led Zeppelin copyright infringement lawsuit is irresistible on several levels.
First is the fact that the song allegedly plagiarized is "Stairway to Heaven," one of the most iconic rock anthems ever.
Then there is the fact that the plaintiffs are heirs of the late Randy California, founder of the group Spirit. Catch the irony? Spirit is fighting over the rights to Heaven.
And in a further twist, Spirit toured with Led Zeppelin in the 1960s. This happens to be a key fact in the case. The plaintiffs contend Led Zeppelin's familiarity with their music – particularly the song "Taurus" – makes plagiarism more plausible.
Stairway to a Heavenly Taurus
Here are specific allegations from the complaint filed in federal court in Pennsylvania:
166. Defendants, specifically Led Zeppelin, Jimmy Page, Robert Plant, John Paul Jones, and John Bonham (deceased), first came to the United States in 1968. Late in 1968, Zeppelin opened shows for Spirit, during which "Taurus" was played by Randy California and Spirit.
167. During this time period, Led Zeppelin was influenced by Spirit and even began to play a song by Spirit named "Fresh Garbage" in Zeppelin's sets.
168. Defendant Page admitted in a 1972 interview that he found Spirit's live performances to be "very good," acknowledging that Spirit's performances "struck him on an emotional level."
170. Defendants had direct access to "Taurus" by virtue of their close interaction with the band Spirit and Randy California, and the fact that they listened to Spirit play "Taurus" in concert, and likely purchased the album.
171. Access is also established because the similarities between "Taurus" and the iconic notes, melody, chord progression, structure, tempo, instrumentation, and feel of "Stairway to Heaven" are so strikingly similar that independent creation is precluded.
172. Substantial similarity between "Taurus" and "Stairway to Heaven" is established because, to a reasonable observer, the iconic notes, melody, chord progression, structure, tempo, instrumentation, and feel of "Stairway to Heaven" sound almost identical to Plaintiff's protected expression in "Taurus."
Every Song Is Already Written
More than one observer has pointed out that if you close your eyes and listen hard you can hear similarities between lots of rock songs.
"Nobody has written an original rock song since 1953," writes this music blogger. "[T]he entire music industry is founded on exchanging blurry photocopies of other people's work. Sure, some art is outright plagiarism, but even when it's in a gray area, it's an opportunity for cash." 
Five Musical Rip-offs
Here are some notable music plagiarism cases:
Gordon Jenkins ("Crescent City Blues") vs. Johnny Cash ("Folsom City Blues"). Jenkins won $75,000.
Chuck Berry ("You Can't Catch Me") vs. John Lennon ("Come Together"). As part of the settlement, Lennon agreed to record three songs owned by Berry's publishing company, including a cover of "You Can't Catch Me," which appeared on Lennon's 1975 album Rock 'N Roll.
Jorge Ben ("Taj Mahal") vs. Rod Stewart ("Do You Think I'm Sexy"). Stewart settled by agreeing to give a percentage of the song's proceeds to UNICEF.
Huey Lewis & The News ("I Want a New Drug") vs. Ray Parker Jr. ("Theme from Ghostbusters"). The case settled out of court. In an instance of turnabout being fair play, after Lewis went on VH1 and discussed the case, Parker sued for breach of the confidentiality agreement.
And in perhaps the most bizarre case of all, former Creedence Clearwater Revival leader John Fogerty was sued in 1972 by Fantasy Records head Saul Zaentz, who claimed Fogerty's song "The Old Man Down the Road" ripped off the earlier the Fogerty-penned CCR classic "Run Through the Jungle." That's right, Fogerty was accused of plagiarizing himself.
Fogerty won that one. But he was later sued by Zaentz for defamation over the attack song "Zanz Kant Danz." As a condition of settlement, Fogerty changed the title to "Vanz Kant Danz."
The Led Zeppelin litigation promises to be a long, slow slog. The parties are mired in a fight over jurisdiction, which is nobody's idea of heaven
Sources:
Jay Reeves a/k/a The Risk Man is an attorney who has practiced North Carolina and South Carolina. Formerly he was Legal Editor at Lawyers Weekly and Risk Manager at Lawyers Mutual. Contact him at jay.reeves@ymail.com