Social Media Management Made Easy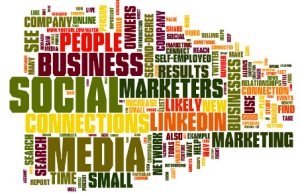 Businesses everywhere are beginning to recognize the importance of incorporating social media into their marketing. Although companies see the value in social media, one of the biggest reasons why most businesses don't have a strong social media presence is time.
If time is your concern, here are a few tips to help simplify your social media management:
Schedule your posts—just as businesses have seen the importance of social media; social media sites recognize the importance of finding ways to accommodate its users' need for simplicity. Social media sites such as Facebook allow you to schedule your posts for future times and dates. You can get all your postings for the week scheduled on Monday.
Social Media dashboard —Facebook, Twitter, Instagram & LinkedIn (wipes forehead). How do you keep up with all those passwords? Logging in and out of each can be overwhelming. However, there's Hootsuite. Hootsuite is the leading social media dashboard that allows you to manage all your social media profiles in one place (you can schedule your tweets for the entire month).
Subscribe to blogs—there are several legal blogs that provide great content worth sharing. You don't have to spend hours coming up with content to distribute to your social network. Sharing information and tagging the blogger is a good way to build your social network quickly.
Download Social Media Extensions (buttons)—the next time you're on Pinterest and you ignore the prompt to get the "pin it" button, think twice.  Adding social media buttons to your browser's tool bar will allow you to capture and share information on various social networks quickly.
Set Goals/Plan ahead—having a plan in place and setting goals will help you focus your social media messages. What does success look like to you? How many times a day will you tweet or post on Facebook? Knowing exactly what you want to accomplish is more efficient and saves a lot more time than figuring it out as you go.
Get everyone involved—some firms and companies hire social media managers to handle building and maintaining their social media presence. However, for smaller offices it's a great idea to get everyone involved. Employees can rotate responsibilities. It's always a good idea to have everyone policing the social media content.
In the time it took you to read this post, you could have pinned a few pictures directly from your browser's toolbar, scheduled tweets for the next two days and replied to some of your followers (if you were practicing the tips mentioned above).
Monisha Yowell is the Marketing Coordinator for Lawyers Mutual. Monisha connects Lawyers Mutual with our insureds and the legal community through the use of social media. You can reach Monisha at 800.662.8843 or monisha@lawyersmutualnc.com.