Simple Typo Causes Billion Dollar Legal Error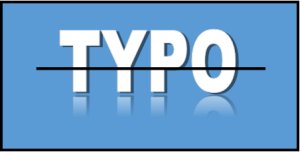 Document generating programs save time and money by letting you crank out common forms with a few keystrokes.
They can also cause little errors that lead to big malpractice claims.
A case in point: a paralegal working on the General Motors bankruptcy case inadvertently entered a JP Morgan loan number on an unrelated UCC form. The error – which went undetected by the paralegal's supervising attorneys and lawyers at the bank – invalidated the bank's security interest in a $1.5 billion loan. The dispute was eventually settled.
"We see multimillion-dollar contracts being prepared using fill-in-the-blank forms," says an Ames & Gough insurance broker in this Law 360 article. "[S]ometimes it's paralegals doing them, and there really has to be more duplication in the checks."
Sally Anderson, former risk manager for Wisconsin Lawyers Mutual, says while there has always been a "pipeline" of scrivener-related malpractice suits, there's been a spike in recent years as lawyers increasingly rely on document software.
"Forms are great most of the time, but two sets of eyes are just invaluable," says Anderson. "[S]o often lawyers are working singly these days to streamline the process and make it more affordable, and you do lose a lot of accuracy."
The $2 Billion Typo
Another potentially high-dollar typo came in the multi-million-dollar divorce litigation involving Los Angeles Dodgers owner Frank McCourt. There were inconsistencies in versions of McCourt's prenuptial contract. In one version, a list of his separately-owned property was "inclusive" of the Dodgers. In another version, it was "exclusive" of the team.
The lawyer who drafted the contract said he had "garbled the language" and never intended the team to become a joint asset, according to press reports.

Keyboard goofs, misspelled words and wandering decimal points can produce documents that look fine superficially, but actually contain serious, unintended mistakes. Here are some ways to avoid disaster:
Double and triple-check all documents. Failure to proofread can be as negligent as missing a statute of limitations.
Don't be lulled into false complacency. All software programs have built-in tools for catching mistakes. Don't rely on these. The danger of fill-in-forms, Anderson says, is giving the user a false sense of security that text will be flawlessly carried over from document to document.
Choose software programs wisely. Select ones that have multiple safeguards to minimize mistakes.
Make sure computer changes are made in hard copies as well. Sometimes the electronic version of a document is changed without revising or destroying earlier hard copies, as apparently happened in the McCourt case.
Educate your staff. See that everyone who uses a document program is properly trained.
Remember that you are ultimately responsible for the quality and content of your work product. That's true whether you produce your documents by calligraphy or computer.
Do you use document generating software? Do you have an interesting experience – good or bad – to share?
Sources: