Shocking Peas and Dangerous Thongs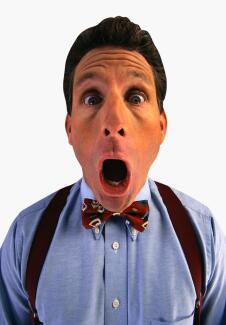 It is said that hard cases make bad law.
The same is true for crazy cases – those with facts better suited for the tabloids than Thomson Reuters.
But they sure are fun to read.
Take, for instance, the woman in Kuwait who filed for divorce after discovering that her husband used a slice of bread instead of a fork to eat peas. After witnessing this "shocking sight," she said she could no longer live with him, according to published reports.
Another case of wedded woe involved a tube of toothpaste, which an insensitive groom insisted on squeezing from the middle and not the end. This sparked "endless and irreconcilable arguments."
Here are some other wacky lawsuits pulled from true-life headlines:
A prison inmate in Virginia claimed to have violated his own civil liberties by committing his crime while intoxicated, which clashed with his religious beliefs. He filed a $5 million lawsuit against himself. He lost.
An Oregon man sued Michael Jordan and Nike for $416 million, alleging that his physical resemblance to the basketball icon had caused emotional pain, suffering and permanent injury. The plaintiff said he could not ride a bus or dine out without being mistaken for Michael – despite being half a foot shorter and considerably less coordinated. He dribbled his lawsuit out of bounds without recovering a dime.
A Minnesota man brought legal action demanding that David Blaine and David Copperfield disclose the secrets of their magic tricks. He claims they actually stole the tricks from him. He also claims to be God.
A beer drinker sued Anheuser-Busch in 1991 for false and misleading advertising. He says the company's television ads – showing beautiful women going gaga over beer guzzlers – depicted scenes that did not actually happen when he popped open a can of Bud Light. He claimed emotional distress and mental injury but wound up with nothing more than an empty, crumpled can.
A newspaper carrier for The Tribune Company named Mark Guthrie was understandably elated when he found an unexpected $300,000 in his bank account. Unfortunately, the money was intended for the Chicago Cubs pitcher with the same name and had been deposited in his account by mistake. When the employer moved to recover the funds,  Guthrie – the newsie, not the knuckleballer – froze his account. This sparked litigation, which ended with the right Mark Guthrie finally getting his dough.
A Los Angeles woman sued Victoria's Secret for eye damage that she says happened when she was trying on a thong. The tight, stretchy undergarment gave way in the dressing room, causing a metal clip to fly off and hit her in the eye. Turns out the plaintiff is a traffic cop. Guess the light was not in her favor.
A woman in Israel sued a local television station for inaccurately predicting the weather. The forecaster said it would be a fine day. Actually, it rained, which the plaintiff said made her go outside underdressed, leading to a nasty case of the flu, lost income, medical expenses and emotional distress. She sued for $1,000. And she won.
The lesson: be wary of predicting a specific outcome in a case, especially if you look like Michael Jordan and are drinking Budweiser. Or trying on a thong.
Jay Reeves a/k/a The Risk Man is an attorney licensed in North Carolina and South Carolina. Formerly he was Legal Editor at Lawyers Weekly and Risk Manager at Lawyers Mutual. Contact jay@lawyersmutualnc.com, phone 919-619-2441.
Sources:
ListVerse http://listverse.com/2009/01/28/top-10-bizarre-or-frivolous-lawsuits/