Rise in Malpractice Claims Against Estate Lawyers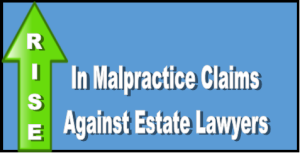 Malpractice claims against trust and estate lawyers across the nation have risen steadily over the past 25 years, and observers are predicting that trend will continue.
The news is brighter here in North Carolina, where trusts and estate claims are somewhat lower.
Overall, the practice area that encompasses wills, trusts, estate planning and probate law accounts for 10.7 percent of all claims nationally, according to the most recent statistics from the American Bar Association Standing Committee on Lawyers' Professional Liability. That makes it the fourth-riskiest practice niche, behind real estate, litigation and family law.
Those numbers are expected to grow – at least on the national level – as states such as New York chip away at the privity requirement that historically barred many probate claims.
In North Carolina, trusts and estates also rank fourth in claims frequency (tied with bankruptcy law), based on Lawyers Mutual's 2014 claims data. But the eight percent slice of the pie is proportionally smaller than the national figure.
In North Carolina, trusts and estates also rank fourth in claims frequency (tied with bankruptcy law)
Steady Claims Growth Since 1985
Here are the national malpractice percentages by practice area:
Real estate – 20.3 percent
Plaintiff's personal injury – 15.6 percent
Family Law – 12.1 percent
Trusts and estates – 10.7 percent
Notably, trust and estate claims have risen steadily since 1985, the year the ABA Standing Committee conducted its very first study. Back then, estate claims accounted for less than seven percent of all claims. That number rose to 7.6 percent in 1995 and 8.7 percent in 1999. The 10.7 number in 2011 represents a high-water mark.
That's a 50 percent rise in estate claims nationally over the last 25 years.
Growing Risk in New York as Privity Falls
Two decades of court rulings have raised the probate practice risk for New York lawyers.
From the New York Journal: "In 1986, New York's strict privity requirement was clear: '[A]bsent privity of contract, the simple omission by an attorney to prepare a new will or codicil naming a new beneficiary of some part of the decedent's estate does not, by itself, render the attorney liable to the alleged beneficiary…. The well established rule in New York with respect to attorney malpractice is that absent fraud, collusion, malicious acts or other special circumstances, an attorney is not liable to third parties, not in privity, for harm caused by professional negligence."
A 1988 New York decision lowered the privity bar for lawsuits against accountants. Four years later, the NY Court of Appeals applied that ruling to attorneys as well: "Although the defendants in many of the prior cases addressing the issue have been accountants, there is no reason to arbitrarily limit the potentially liable defendants to that class of professionals…. We now conclude that in circumstances such as these, a theoretical basis for liability against legal professionals can be presented … [although] there must be a showing that there was either actual privity of contract between the parties or a relationship so close as to approach that of privity."
Most recently, a September 2015 New York court gave the green light to a malpractice suit brought by trustees against a decedent's attorney: "[T]he trustee plaintiffs stand in a position analogous to that of the personal representative of an estate, and therefore, possess the requisite privity, or a relationship sufficiently approaching privity, to maintain an action alleging legal malpractice against the defendant."
Do you prepare wills or do estate planning? What are some of the risks you encounter? Do you think those risks are increasing?

Sources: