Read This And Win Every Case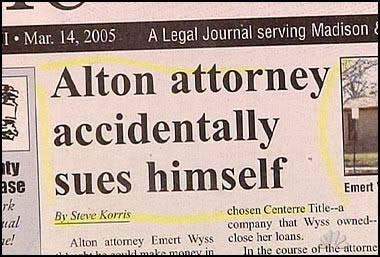 Did that headline grab your attention?
Did it make you want to read more?
If so, it worked. It did what a headline is supposed to do. It brought the two of us – writer and reader – together, and now here we are. On the same page. 
Hooking readers with tempting headlines is one of the oldest tricks in journalism. Man Bites Dog! Father of 30 Kids by 11 Women Can't Afford Child Support! Aliens Abduct Elvis Presley's Love Child! (The middle one, by the way, is an actual screamer that popped up on my Yahoo news ticker a few minutes ago.)
Great headlines share some common characteristics: they are lean, punchy and dramatic. Hubby Sues Ex-Wife: I Want My Kidney Back!
Legal writing, by contrast, is too often bloated, bland and banal. Defendant's Supplemental Memorandum in Support of Amended Motion to Compel.
In-house counsel and blawger Mark Herrman points out two frequent mistakes lawyers make when they sit down to write: alphabet soup (overuse of acronyms) and inadequate explanation.
He cites the following opening from a law brief as a double offender:
"The 2000 EUSLA gave [BigCo] the right to ten CPU-based software licenses."
Herrman's suggestions: (1) explain to the reader that EUSLA means "end-user software licensing agreement," and (2) establish some background on the CPU licenses before getting to the nitty-gritty of the transaction.
Otherwise, the reader's attention might drift to spicier stuff such as … Fountain of Youth Found in NYC Subway Bathroom!
Interesting headlines are not just for tabloids. They can work wonders in the most formal of contexts too. The current issue of "South Carolina Lawyer" has an article on how the U.S. Attorney made excellent use of topical headings for its appellate brief in Martha Stewart's criminal case.
Take a look at the headers the government used to lay out the key facts in the complex litigation.
Get Martha on the Phone
Peter Bacanovic Thinks ImClone is Going to Start Trading Downward
Stewart Sells Her ImClone Stock
Something is Going on With ImClone and Martha Stewart Wants to Know What
Stewart's Conversation With Mariana Pasternak
The Investigations Begin
The Tax Loss Selling Cover Story
January 3, 2002: Faneuil Lies to Investigators
Bacanovic Changes the Cover Story
January 7, 2002: Bacanovic Lies to Investigators
Stewart Alerts Bacanovic's Telephone Message
February 4, 2002: Stewart Lies to Investigators
February 13, 2002: Bacanovic Lies in Sworn Testimony
March 7, 2002: Faneuil Lies to Investigators Again
April 10, 2002: Stewart Lies to Investigators Again
Stewart's False Public Statements
Faneuil Reveals the Truth
Simply by scanning these headers, the casual reader gets the whole story – at least the way the government wanted the story told. Click here for the article
Of course one should never confuse style with substance, especially in legal writing. And be careful of promising something in a header than you do not deliver in the body of the manuscript.
But the next time you're reviewing a draft document and find it full of WALI and CERCLA and URESA, take note. You probably shouldn't splash it up with Police Search for Cross-Dressing Clown in Priest Attire! But a little TLC might help.
Dial down the legal-speak. Polish your prose until it's as clear as crystal. Season with a dash of spice.
It won't guarantee that you'll win every case. But it might make your reader want to keep on reading, and that alone is worth a banner headline.
To nominate our blog for the ABA Journal annual list of the 100 best legal blogs visit: Blawg 100 Amici.
Ernest (Jay) Reeves Jr. is an attorney licensed in North Carolina and South Carolina. He has practiced in both states and was Legal Editor at Lawyers Weekly and Risk Manager at Lawyers Mutual. He writes the Risk Man column of practice pointers and risk management tips. Contact jay.reeves@ymail.com or phone 919-619-2441.