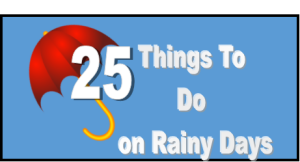 If you've got a large but tedious project, save it for a rainy day.
You're more likely to get it done when it's crummy outside, according to researchers at Harvard and UNC-Chapel Hill. In a paper titled "Rainmakers: Why Bad Weather Means Good Productivity," the authors tracked the productivity of office workers in weather ranging from torrential downpours to blazing sun.
The results: we're more productive when it was nasty outside.
"[O]n gloomy days, participants were less likely to be distracted by thoughts of outdoor activities," it says here. "In other words, instead of glancing out the window every five minutes wishing you were soaking up the rays, you're more likely to be able to stay engaged with the work in front of you (since, let's be honest, you'd rather not be outside)."
Implications for Management
The study suggests ways managers can sustain productivity in all types of weather:
Pay attention to office décor. Steer clear of pictures of Emerald Isle, Linville Gorge or the Cape Hatteras Lighthouse – especially when the weather is lousy. They may be lovely to look at, but they will also get employees daydreaming about being there instead of here.
Assign clerical tasks on gloomy days. Document review, proofreading and accounting chores are best tackled when it's overcast outside.
Assign creative tasks on sunny days. Brainstorming and strategizing come easier on bright, clear days when we're feeling playful and imaginative and clicking on all cylinders.
The findings may apply in the classroom as well. One online commenter wrote: "This may be consistent with what one sees in educational achievement data. The highest levels of educational achievement occur in the upper Midwest, where the weather is cold and otherwise unattractive during most of the academic year. New England isn't bad either. Even in the years when education was well-funded in California (before Proposition 13), educational outcomes were less than stellar. Of course, there are many other variables, cultural and otherwise, that may be contributing to these outcomes."
Raindrops Falling on Your Head
Mondays might get you down, but rainy days don't have to. Here's one lifestyle writer's list of 25 things to do on a rainy day:
Reorganize something.
Start a new hobby.
Re-start an old hobby.
Cook something.
Restock your pantry.
Clean out your closet.
Set a financial savings goal, and get started on it.
Try a new exercise.
Make life plans.
Journal.
Catch up on correspondence.
Clean your office.
Try a new recipe.
Order in.
Let someone know you're thinking about them.
Make appointments.
Pay your bills.
Review and update your budget.
Begin initial preparations for something upcoming.
Rearrange your home or office.
Bake cookies.
Make cards or gifts.
Work on a side gig.
Clean up your email, Facebook and Twitter accounts.
Sleep.
Sources: