Pro Bono Benefits for Lawyers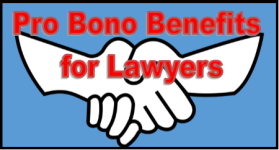 Exploring new practice areas and making interesting connections are two benefits of pro bono service, lawyers say.
A third: sometimes it leads to lucrative law work down the road.
These were some of the answers given by lawyers in response to a question posed by the ABA Journal: Has pro bono work helped you professionally?
The informal poll came in the wake of an ABA study that found the average practitioner spends close to 37 hours per year in pro bono activities. That same poll revealed that 80 percent of lawyers believe pro bono is important.
The ABA study, "Supporting Justice: A Report on the Pro Bono Work of America's Lawyers," surveyed 47,000 lawyers in 24 states. Read the report here.
The top three reasons lawyers perform pro bono are:
Helping people in need
Ethical obligations (see North Carolina Rule of Professional Conduct 6.1, below)
Professional duties
The ABA Journal wanted to go beyond altruistic motives and professional obligations. It asked attorneys if pro bono had helped their practices – and if so, how?
One intellectual property lawyer said free copyright and trademark work he's done for authors and songwriters has paid off in a big way.
"Some of them become successful and famous later, and they remember the work I did when they were struggling," said Richard Roth.
Here are some other responses:
"Yes it has. New York counts volunteer Small Claims arbitration as pro bono. In addition to the immense satisfaction I have gotten from such service, it has taught me much about the workings of the various New York City and New York State agencies."
"A wise mentor taught me to give back in some fashion of pro bono service without any regard to return, but as a means of contributing to others in whatever way is suitable for one to so. That particularized and unconditional pro bono service is the most satisfying, and gives no thought to pay back or even gratitude from the recipient. A genuine thank you is really icing on the pro bono cake."
"The only things that I have received from providing free legal services are requests to provide more free services."
"I began taking pro bono divorces when I graduated law school. It was a great way to learn how to be a lawyer, as I was a solo. Over the years, as I continued taking pro bono cases, I have had a few paying clients and referrals from my pro bono work. I would not take cases as funding source, but it pays a lot of non-monetary rewards."
"The single case I am most proud of in my 22 year legal career was a pro bono guardianship matter for an adult autistic gentleman. That young man has exercised the independence we gained for him to become an international autism outreach ambassador. THAT outcome is hugely satisfying and worth more than any paycheck."
"When I started practicing, I had been clerking for the small town firm since the summer after first year. I knew that community involvement was expected. My high school didn't play football.  I helped organize and served as pro bono counsel to the league for about 10 years. It led me to help organizing the community youth wrestling league as well. Twenty years later pride still comes out when I watch the second generation of football players put on their helmets, and the high school team make the playoffs."
NC Rule 6.1 Voluntary Pro Bono Publico Service
Every lawyer has a professional responsibility to provide legal services to those unable to pay. A lawyer should aspire to render at least (50) hours of pro bono publico legal services per year.
What about you? What benefits have you gotten from pro bono work?
Sources: