Predicting Your Future as a Lawyer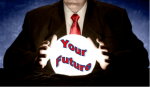 What will practicing law be like in 2020?
For one thing, legal services will increasingly be packaged, commoditized and offered directly to clients as do-it-yourself kits.
For another, these packages will often be given away for free.
Those are two predictions of legal futurists who spoke at this year's Lawyernomics conference in Las Vegas, Nevada. The gathering – hosted by Avvo and sponsored by the ABA Journal, among others – concluded with a crystal ball session where experts guessed at what a typical law practice might look like in the coming years.
ABA Journal writer Victor Li wrote this article about it. One major theme: automation will change everything – and it will open new doors.
From Li: "We as lawyers are leaving a bunch of opportunities on the table,' said Avvo CEO Mark Britton, pointing out that many lawyers won't touch commoditized work because it doesn't stimulate them mentally or bring in enough revenue. 'Lawyers aren't servicing these clients, yet they are the first to yell 'unauthorized practice of law!' or 'burn the witch!' whenever a nonattorney tries to do it.'"
Five Things to Expect in the Future
Giving away service as "freemiums." Under the "freemium" model, legal work is automated and given to clients at no charge. It's a way to build goodwill and cement relationships. It's also a way to avoid doing routine work that isn't exciting or stimulating in the first place. At present, only the biggest of biglaw firms offer freemium services, but the trend is expected to trickle down to practices of all sizes.
Creating in-house "Legal Zoom" departments. Check out this web-based app from the 850-lawyer Cooley firm based in San Francisco and New York. It's a free service tailored for entrepreneurs and tech startups that lets users create legal documents like incorporation forms, notes and employment contracts. The site also provides free advice on business issues such as intellectual property, stock issuance and cybersecurity.
Why did the firm do this? To attract new clients and strengthen ties with existing ones.
Li quotes a firm spokesperson: "When it came to generating and filling out paperwork, what we heard a lot from our clients was: 'Shouldn't this be simple?' We needed to find ways to help them get things done quickly and work to make their lives easier so that they could get bigger."
It's paying off. Big-time. In the first six months, the site drew approximately 25,000 visitors from 140 countries. Around 15,000 documents were generated.
Fewer lawyers as we know them. One Stanford Law professor predicts that as "law becomes more open-sourced and readily available to the general public, people will no longer need attorneys to tell them what the law is." He believes that in 15 years, two-thirds of lawyers won't be practicing law as we recognize it today.
More time spent in the cloud. Cloud computing and data storage is the new normal, Li says. The cloud saves time, money and server space. It allows an organization to be nimble and mobile.
Emphasis on firm culture. The software company Moz came up with a core culture called TAGFEE (Transparent, Authentic, Generous, Fun, Empathetic and Exceptional). The company says putting its values out there in plain view helps bring in great recruits and new business.
What do you think of these predictions? Agree? Disagree? Shaking your head? Send us a comment.
Sources:
Jay Reeves a/k/a The Risk Man is an attorney who has practiced North Carolina and South Carolina. Formerly he was Legal Editor at Lawyers Weekly and Risk Manager at Lawyers Mutual. Contact him at jay.reeves@ymail.com