Paralegal Division Is Going Strong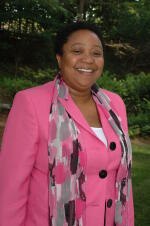 Congratulations to Yolanda Smith, this year's winner of the Distinguished Paralegal Award.
She was honored by the Paralegal Division of the N.C. Bar Association for stellar performance on the job and outstanding contributions to her profession.
Smith is settling into a new position at the N.C. Department of Justice after several years at N.C. State University, where she worked in employment, compliance and professional sports counseling.
"I was very surprised and happy to receive this award," she said in this news release. "It is nice to be recognized by your peers."
Professional Growth and Development
The Paralegal Division is one of the largest sections or divisions of the NCBA. It offers opportunities for paralegal education, service and leadership.
The division is open to full-time paralegals, paralegal students and NCBA attorney members in North Carolina. Smith chaired the division in 2011-12 and has been an active member since 2000.
She says she entered the field almost by accident: "I answered an ad for an administrative assistant. Nothing in the ad hinted it was for a lawyer. I went for the interview at the law firm, and Jane Atkins hired me. I loved everything I did. She sent me to Carolina's paralegal program and encouraged me to join the Paralegal Division as well as another association."
She credits her late boss and mentor – a family lawyer and NCBA member – for encouraging her professional growth.  That has included earning a paralegal certificate from UNC-Chapel Hill, a North Carolina Certified Paralegal designation and NALA's Advanced Certified Paralegal designation in civil litigation.
"I did take time to mention [Jane] when I accepted the award," Smith said, "because if not for her encouragement I don't think I would have done as much as I have done over the last 18 years."
Now Smith is paying it forward. She mentors other paralegals. She helped develop content for the NCCP exam. She serves as a testing proctor. She volunteers with the NCAJ High School Mock Trial Competition. And somehow she finds time to speak at CLEs and CPEs for the Paralegal Division and other groups.
Past Paralegal Honorees
2014 – Sarah Hall Kaufman, CP, NCCP
2013 – Kaye H. Summers
2012 – Stephanie C. Crosby, NCCP
2011 – Phyllis M. Hines, CP, NCCP
2010 – Virginia M. Burrows, CLAS, NCCP
2009 – Teresa L. Bowling, ACP, NCCP
Learn more about the NCBA Paralegal Division here and here.
Do you know a paralegal or legal assistant who is worthy of recognition? Send us a comment telling us who and why.
Sources:
Jay Reeves a/k/a The Risk Man is an attorney who has practiced North Carolina and South Carolina. Formerly he was Legal Editor at Lawyers Weekly and Risk Manager at Lawyers Mutual. Contact him at jay.reeves@ymail.com