One Minute Ethics Workout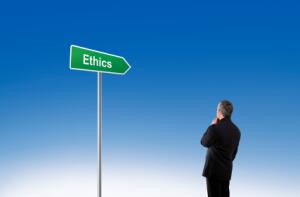 The sheer volume of ethics rules can be overwhelming.
Here, then, is a quick sixty-second workout to bring you quickly up to speed:
Rules of Professional Conduct. Here is the starting line for determining your ethical duties in any given situation: the Rules of Professional Conduct. Responsibilities under the rules are broad indeed. According to the preamble: "A lawyer is a representative of clients, an officer of the legal system, and a public citizen having special responsibility for the quality of justice."
Continuing legal education. The State Bar requires completion of twelve (12) hours of approved continuing legal education each year. Failure to do so can result in suspension of your law license, as can failure to submit the compliance form. Some of your annual hours can be obtained through online courses. At least once every three years you must attend a special three-hour ethics block. There is a substance abuse requirement as well. For more information contact the State Bar – all pertinent information is on its website.
Winning isn't everything. The rules require you to represent your client zealously. But this does not mean you have to be a jerk or use scorched-earth tactics. The rules also call for professionalism and civility. Don't cut corners. Some conduct is inappropriate even though not strictly unethical. Clients who see you behaving disreputably to opponents might reasonably believe you will treat them the same way.
Deal with grievances. Statistics show that most lawyers will receive a State Bar grievance during the course of their practice. Most grievances are without merit and eventually dismissed. If you happen to get a grievance letter from the State Bar, respond to it promptly. You have an ethical duty to participate in the process. Failure to do so is in itself a violation of the rules.
Supervision is required. Rules 5.1 to 5.3 of the Rules of Professional Conduct cover your obligations to supervise partners, subordinate lawyers and non-lawyer assistants. In some circumstances you have a duty to direct and inspect the work of others. If you are unsure what activities can be properly delegated, consult a senior attorney or the State Bar. Ask your assistants to explain the projects they are working on. Make sure you are all working from the same page. After you have delegated a project your responsibilities do not end. You have a continuing duty to communicate, monitor progress, see that deadlines are met, answer questions and review the work product before signing off on it. An experienced staff can be a great resource. Every firm has at least one staff member who knows the scoop on pretty much everything. Use this resource – but make sure not to forget that the buck stops with you.
Mum's the word. Rule 4 says a lawyer must preserve the confidences of a client. Confidential information is defined as information gained in the professional relationship. The comment to this rule says, "the confidentiality rule applies not merely to matters communicated in confidence by the client but also to all information relating to the representation, whatever its source." Discussing specific cases with family and friends is prohibited. Keep your personal and professional lives separate.
Ethics v. Malpractice. These are not the same. An ethical violation can be evidence of malpractice, but it is not conclusive that the standard of care was not met in a given situation. Many malpractice claims, such as those alleging missed deadlines, do not involve dishonest conduct.
Pick up the phone. You should not hesitate to call on the State Bar with ethical concerns. Expert ethics attorney are waiting to help you. Go online and review the latest ethics opinions. Keep a copy of the Rules of Professional Conduct on your desk. Get to know about the various State Bar programs, such as Specialization, PALS and FRIENDS. Know the rules on Continuing Education and stay current with your hours.
High risk. No lawyer likes to deal with unpleasant cases and people. The tendency is to focus on matters for clients we like and hope the others disappear. But problems do not fade away. Often they turn into State Bar grievances and malpractice claims.
Trust accounts. The number one cause for attorney disbarment is taking money from the client trust account. Get a copy of the State Bar's Trust Account Guidelines. Make sure you understand your obligations. Follow the rules. Call the Bar for help.
Ernest (Jay) Reeves Jr. is an attorney licensed in North Carolina and South Carolina. He has practiced in both states and was Legal Editor at Lawyers Weekly and Risk Manager at Lawyers Mutual. He writes the Risk Man column of practice pointers and risk management tips. Contact jay.reeves@ymail.com or phone 919-619-2441.