Oh, Those Pesky Nonrefundable Retainers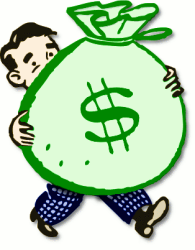 You might think if your ex-client is in prison for life on a murder rap, you don't have to worry about her suing you for malpractice – much less winning a multi-million dollar verdict against you.
But that's what happened to a lawyer in Georgia.
The main characters in this story are: (a) Barbara Ann Roberts, an Alabama woman serving a life sentence for killing her ex-husband's wife; (b) the lawyer who represented her in the case; and (c) the jury that awarded her $2 million in damages for legal malpractice.
Let's take this one from the top.
Risky Business in Alabama
Our saga begins in 2006, when Roberts was arrested on a non-capital charge in a murder case in Alabama. Fortunately, she already had an attorney at the time. Unfortunately, he was a Georgia lawyer working on an unrelated matter.
And he was not licensed in Alabama. No matter. He went ahead and prepared a representation agreement that included a provision for a $50,000 nonrefundable retainer fee. This was counsel's Mistake Number One.
Actually, it was Mistake Number Two – the first being accepting the case at all.
Then, having gotten the client signed up, counsel made Mistake Number Three by having her sign a Power of Attorney authorizing him to withdraw the $50,000 retainer from her bank accounts. Which he promptly did, depositing the funds in his firm's operating account. Which was Mistake Number Four. Or Five. I've lost count.
Local Counsel, Global Trouble
The attorney did have the good sense to associate local counsel in Alabama. Smart move. But even that backfired when the client questioned why she needed two attorneys and tried to sever her relationship with the first one and get her $50,000 back.
But the Georgia lawyer did not go gently into the night. He continued representing her, refused to refund her money and, when she was indicted for capital murder, charged her a second $50,000 so-called non-refundable retainer. At some point thereafter, he withdrew from representation.
Meanwhile, the lawyer in Alabama was in the process of embezzling more than $100,000 from the same client.
In 2008,  the defendant was convicted of murder and given a life sentence. A year later, she sued the Georgia lawyer for malpractice. Among her allegations: he charged an illegal non-refundable retainer, deceived her into executing an invalid contract, misrepresented that she was not entitled to any refund of the retainer and converted the funds to his personal use.
The malpractice case went to trial in March. The jury awarded $60,000 in compensatory damages and $2 million in punitive damages.
End of story, right. Not quite. Counsel says he plans to appeal.
3 NC Ethics Opinions on Nonrefundable Retainers
2008 Formal Ethics Opinion 10. This opinion – titled "Guidelines for Fees Paid in Advance" – is a good starting point for sifting through the ethical parameters of accepting money up front. The opinion surveys prior ethics opinions on legal fees, sets forth the ethical requirements for the different types of fees paid in advance, authorizes minimum fees earned upon payment, and provides model fee provisions.                                                                                                                                        
RPC 158. "[A]n advance payment to a lawyer for services to be rendered in the future, in the absence of an agreement with the client that the payment is earned immediately, is a deposit securing the payment of a fee which is yet to be earned. As such, it remains the property of the client and must be deposited in the lawyer's trust account. See also 2005 FEO 13 (minimum fee that is collected at the beginning of a representation and will be billed against at a lawyer's regular hourly rate is neither a general retainer nor a flat fee; therefore, minimum fee remains the client's money until earned by the provision of legal services and must remain on deposit in the trust account until earned). RPC 158 also holds that a lawyer may charge and collect a flat fee for representation on a specific, discrete legal task such as resolution of a traffic infraction. If the client agrees that the money represents a flat fee to which the lawyer is immediately entitled, the lawyer may pay the money to himself or herself or deposit the money in the firm's general operating account rather than the firm trust account."                                                                           
97 FEO 4. This opinion amplifies the definitions for the general retainer and the flat fee. Both types of fees may be charged and collected at the beginning of a representation and are considered "presently owed" to the lawyer. The general retainer is "a payment 'for the reservation of the exclusive services of the lawyer which is not used to pay for the legal services provided by the lawyer.'"
Jay Reeves a/k/a The Risk Man is an attorney licensed in North Carolina and South Carolina. Formerly he was Legal Editor at Lawyers Weekly and Risk Manager at Lawyers Mutual. Contact jay.reeves@ymail.com.
Sources: