NC Lawyers Can Now Practice Out Of The Box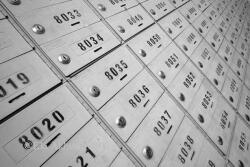 A post office box is an acceptable "office address" under the ethics rules, the State Bar has declared.
The same goes for a time-share office used only for occasional meetings with clients.
2012 Formal Ethics Opinion 6 – approved by the State Bar at its latest quarterly meeting – recognizes the new reality of lawyers practicing at home, in virtual offices, and in shared executive suites that they rarely if ever actually set foot in.
At issue: Rules 7.1 and 7.2 of the Rules of Professional Conduct, which govern lawyer advertising, marketing and communications.
2012 FEO 6 addresses two different law office scenarios.
Virtual Law Office at Home
You practice from home in a virtual office. You communicate with clients mostly online and by telephone. Rarely do you meet with clients in person, and when you do it is outside your home.
For safety and privacy reasons you do not want to list your home address in your business communications.
Ethics question: Is it ethical to use a post office address in your professional advertisements and marketing?
Answer: Yes, with conditions:
Previously, the Ethics Committee interpreted the "office address" requirement in Rule 7.2(c) to mean a street address. However, requiring a street address in all legal advertising has proved problematic, particularly as the number of lawyers working from home offices or operating virtual law practices has increased. The requirement is no longer practical or necessary to avoid misleading the public or to insure that a lawyer responsible for the advertisement can be located by the State Bar.
Therefore, a post office address qualifies as an "office address" for purposes of Rule 7.2(c) provided the post office address is on file as the lawyer's current mailing address in the lawyer's membership record with the North Carolina State Bar.
Time Share Professional Suites

You lease space in a time-share suite shared by other professionals. You can opt for mail forwarding or receptionist service. You sign up to use meeting rooms by appointment. Otherwise, you have no physical presence on-site.
Ethics question: can you use the office address on your business cards, letterhead and stationery?
Yes, provided you have some local connection to the suite and you don't give the misimpression that you have a permanent office there:
A lawyer who does not wish to meet clients at his home, or to list his home address on letterhead and advertisements, does not mislead the public by using a time-shared leased office address on letterhead and advertisements when the lawyer actually lives in the community associated with the leased address and uses the leased office to meet with clients on a regular basis.
In addition, it is not misleading for a law firm to list a time-shared leased office address on letterhead or in advertising so long as the communication contains an explanation that accurately reflects the law firm's presence at the address (i.e.,"by appointment only").
For more details, read the opinion in its entirety.
Jay Reeves is an attorney licensed in North Carolina and South Carolina. Formerly he was Legal Editor at Lawyers Weekly and Risk Manager at Lawyers Mutual. He collects vinyl records. Contact jay.reeves@ymail.com, phone 919-619-2441.
Source: N.C. State Bar