Mind-Body Fitness is the Theme for Mental Health Month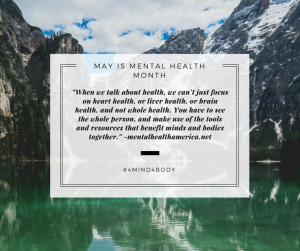 May is Mental Health Month, and this year's theme is Fitness #4Mind4Body.
That couldn't be timelier for lawyers, in light of alarmingly high rates of depression, substance abuse, suicide and career dissatisfaction.
Lawyers Mutual is committed to keeping North Carolina lawyers safe, healthy and happy. Throughout May, we'll be sharing information on wellness through social media and on our Byte of Prevention blog.
Year-round we offer toolkits, checklists and a Lending Library with lots of good material. We hope you take advantage of these free resources. And you can always call our Client Services Department for more information.
Here are some recent blogposts that may be helpful: