10 Ways to Make your Law Blog Stand Out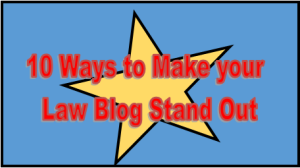 Are you getting any bang from your law blog?
If not, maybe you should write less about your practice and more about your pet parakeet or favorite restaurant.
That's one gold nugget mined from a national survey of law bloggers.
The ABA Journal polled thousands of lawyers for its State of the Legal Blogosphere report. It found readers are drawn to blogs that offer useful content and a community of shared interests. They ignore ones that are thinly disguised sales pitches – which is often the case with law blogs.
"Almost all new legal blogs are marketing schlock," says one of the 391 bloggers who responded to the survey.
The survey results – particularly the comments of actual bloggers – provide a road map for successful blogging.
Such as: keep your posts short and free of legalese.
"Most lawyers want to write a 2,000-word article with footnotes," says this respondent. "Why would I bore readers with legal jargon they could not understand?"
And then there is the Babe Ruth of law bloggers – Baltimore lawyer Jeff Messing, who posted a fresh blog every day for close to seven years. He says it took him around 3,000 hours to crank out the approximately 2,000 posts.
4,000 Legal Websites and Counting
The ABA Journal's online directory lists more than 4,000 law-related blogs and websites. In such a crowded field, it can be hard to stand out.
Here are 10 ways to do just that:
Have fun with it. Blogging doesn't have to be a slog. If it's not enjoyable, why do it? Most of the ABA's Top 100 law bloggers say they have a blast – which is partly what keeps them going.
Avoid the hard sell. "I don't want to market to people," says a Texas criminal defense attorney. "I want to be known as a helpful person who connects people to ways to help them. If people learn I'm a lawyer in the Houston area who's reasonable and client-oriented, it's a more organic approach."
Provide valuable information. "For many people, their first step in legal research is to go to Google, not Westlaw or Nexis," says a Tennessee trial lawyer and author of Presnell on Privileges. "If you're beginning to research an issue, blogs can be helpful. Likely, somebody has looked at this issue and written about it."
Build a community. "It used to be that we lived in small towns and helped each other out," says this blogger. "Blogs are a way to make the world a smaller town."
Use social media to boost your blog. "Most of the people who would have started a blog 10 years ago are on social media now," says Alabama lawyer Keith R. Lee, author of Associate's Mind, a blog for young lawyers.
Read other law blogs. Nearly three-quarters of respondents peruse other law blogs at least several times a week.
Post fresh content regularly. Most bloggers post new material three to five times each week.
Focus on quality. "Good writing is key," says one veteran blogger. "I'm not interested in case briefs."
Choose a platform that works for you. More than half of all law blogs use WordPress. About 35 percent use a custom platform.
Don't obsess over ROI. More than 60 percent of respondents said their blogs bring in new clients. Some said it was their number one source of new business. Close to one-third said they didn't really know if their blog attracts new clients, but they plan to continue blogging anyway. "It's impossible to calculate the return on investment for blogging," says one respondent from Atlanta. "I do it primarily to keep myself abreast of important developments in my area of the law, plus for credibility and visibility. And it's fun!"
Do you have a blog? What's been your experience?
Source: ABA Journal http://www.abajournal.com/magazine/article/what_bloggers_told_us_about_the_state_of_the_legal_blogosphere/