Marcia H. Armstrong Is New State Bar President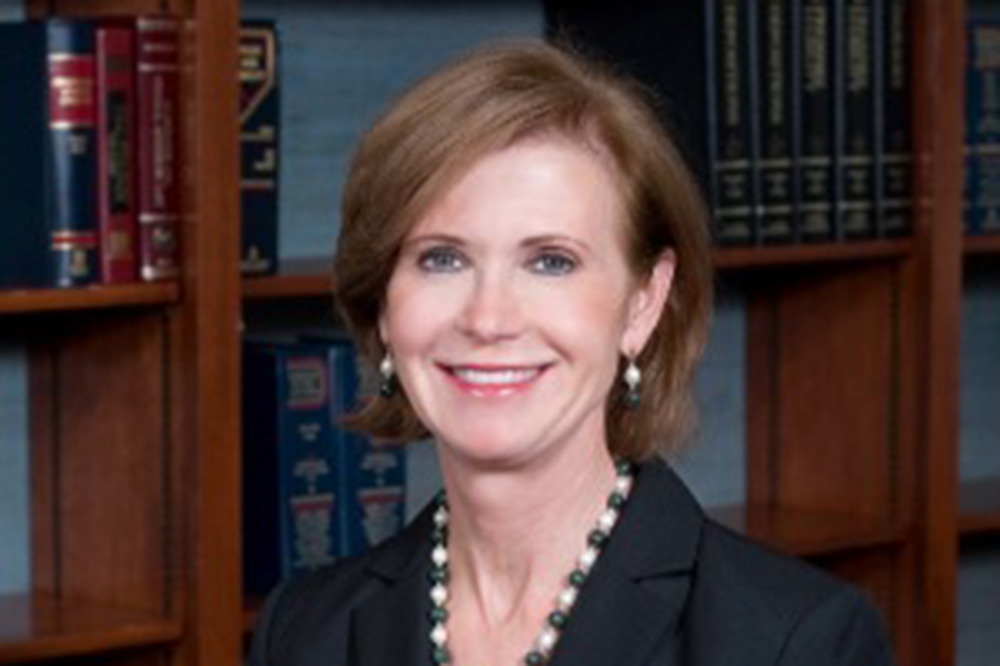 Congratulations to Marcia H. Armstrong of Smithfield, who has been named the 88th president of the N.C. State Bar.
Kudos as well to Ronald G. Baker Sr., Shelby Duffy Benton and Henry M. "Mickey" Michaux, Jr. – the 2022 recipients of the John B. McMillan Distinguished Service Award.
Armstrong is a partner in The Armstrong Law Firm, PA and has been a board-certified specialist in family law since 1989. She was a member of the N.C. State Bar Council from 2011–2019, during which time she chaired the Legislative Committee and the Opioid Summit Special Committee and was a vice-chair of the Grievance Committee.
She is also a past-president of the state chapter of the American Academy of Matrimonial Lawyers. AAML is recognized as one of the top family law associations in the country. Armstrong is a graduate of the Wake Forest University School of Law.
Why choose Lawyers Mutual for your financial protection? One reason is experience. Lawyers Mutual has been in business since 1977 and insures more than 8000 lawyers in North Carolina. We've been providing continuous protection from professional liability to NC lawyers longer than any other insurance company. Another reason is stability. The company's financial strength is absolute. Since 1999, Lawyers Mutual has paid dividends fourteen times, with more than $8 million dollars returned to policyholders since 2011. Want even more reasons? Visit our website, give us a call, or ask a colleague why Lawyers Mutual is the smart choice for liability coverage.
John B. McMillan Distinguished Service Award Recipients
(The following is from the NC State Bar website.)
Ronald Baker grew up in Ahoskie. He was a UNC Morehead Scholar, and he graduated from UNC Law School with honors in 1975. He was a staff sergeant in the North Carolina National Guard. He began his practice of law in Greensboro, but he soon returned to his hometown of Ahoskie.
Baker has been a longtime N.C. State Bar councilor and a past president of the State Bar. He is currently a member of the North Carolina Board of Law Examiners.
Shelby Duffy Benton earned her law degree from Campbell University School of Law in 1985. She worked in Goldsboro for Braswell and Taylor. She began to focus on family law cases when she established the firm of Hollowell and Benton, PA, in 1991. She is a board-certified specialist in family law. She is also certified as a family and financial mediator and is a fellow in the American Academy of Matrimonial Lawyers.
Benton is a past-president of the North Carolina Bar Association and served the association in numerous leadership roles.
Henry M. "Mickey" Michaux, Jr. is one of North Carolina's most prominent African American political figures and a pioneer in the legal profession. "He graduated from North Carolina Central University with a degree in Biology in 1952. After graduation, Rep. Michaux served in the United States Army Medical Corps from 1952–1954 and in the Army Reserves from 1954 until 1960. Rep. Michaux returned to NC College at Durham (now North Carolina Central University) and received his Doctor of Jurisprudence (JD) with honors in 1964. In 1966, Rep. Michaux and his brother Eric Michaux were the only two African Americans admitted to practice law in the state. They applied to the North Carolina Bar Association but were denied admittance. Rep. Michaux was admitted to the NCBA in 1968. He was the fourth African American ever admitted."
"In the 1950s, Rep. Michaux became involved with the civil rights movement and established a close friendship with Martin Luther King Jr. Dr. King encouraged Michaux to run for office. In 1972, Rep. Michaux won three straight two-year terms as a state House representative. He was the first African American to represent Durham County in the NC General Assembly, and the third African Americans to be elected to the General Assembly since Reconstruction."
Source: NC State Bar
The practice of law is always changing. But for lawyers in North Carolina, one thing has remained constant for nearly 40 years. Lawyers Mutual is here for you at every stage of your law career: from your first day on the job to your last day before retirement. Our Byte of Prevention blog features industry news, tips and valuable links on everything from work-life balance to winding down your practice. Our email newsletter "Practice Reimagined" brings cutting-edge insights straight to your in-box. And our skilled team of underwriters, claims counsel and risk management professionals are by your side when you need us most. Lawyers helping lawyers. It's who we are, and it's what we've been doing since 1977.