Looking at the Law Half A Century Ago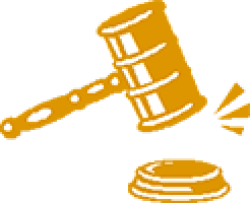 This year marks the 50th anniversary of the future-themed 1964 New York World's Fair, which included predictions from Isaac Asimov of what the world might look like in 2014.
Many of Asimov's forecasts – flat-screen televisions, microwaves, computers – have come true. Others – robot brains, moon colonies – not so much. What about lawyers and the law? What was happening in American jurisprudence 50 years ago? Quite a lot, it turns out. Here is a look back at some of the seismic law-related events of 1964:
Jack Ruby convicted. In March 1964 – with the country still reeling from the assassination of President Kennedy – nightclub owner Jack Ruby was found guilty of killing assassin Lee Harvey Oswald. Ruby was arrested, charged, tried and convicted in the space of four months. Today, the prosecution of a simple speeding ticket can take longer than that.
Warren Commission Report released. In the fall of 1964, the Warren Commission published an 889-page report on the JFK assassination. Accompanying the report were 26 volumes of supporting documents, including the testimony or depositions of 552 witnesses and more than 3,100 exhibits. The goal was to answer all questions – and quash a rising storm of speculation – surrounding the tragedy. That didn't happen. A recent poll showed that 61 percent of Americans believe JFK was killed in a conspiracy. Many say they had either not heard of the Warren Commission Report or thought it was a cover-up.
Civil rights legislation changes society. The 1964 Civil Rights Act changed the face of our country. Two hours after the Act became law, a Georgia attorney for the Heart of Atlanta motel filed a lawsuit challenging its constitutionality. Counsel argued that by interfering with his right to run his establishment as he saw fit, Congress exceeded its authority and placed him in "involuntary servitude." The Supreme Court upheld the new law unanimously.
Gregory Peck inspires a nation. Two years after the film debut of To Kill A Mockingbird, young people motivated by the fictional example of Atticus Finch were flocking to law schools in record numbers. Two notable examples: Morris Dees of the Southern Poverty Law Center and Richard Matsch, the federal judge who presided over the Timothy McVeigh trial. Both have cited Atticus as a guiding light.
Sullivan v. New York Times protects press freedom. In the spring of 1964, a $500,000 libel award to Montgomery, Alabama city commissioner L.B. Sullivan against the New York Times over an allegedly defamatory editorial was unanimously reversed by the U.S. Supreme Court. The court ruled that public officials could not recover libel damages unless they could show that false statements about them had been made with "actual malice." Justice William Brennan's majority opinion endorsed "a profound national commitment to the principle that debate on public issues should be uninhibited, robust and wide open."
The Beatles conquer the country. In 1964, America met four shaggy-haired Brits when the Beatles made their U.S. television debut on the Ed Sullivan Show. A record audience of 73 million tuned in to see what all the fuss was about.
Visualizing the future is more than just a fun exercise. It can help shape our present. Taking a look backwards helps explain how we got here.
Jay Reeves a/k/a The Risk Man is an attorney licensed in North Carolina and South Carolina. Formerly he was Legal Editor at Lawyers Weekly and Risk Manager at Lawyers Mutual. Contact jay@lawyersmutualnc.com, phone 919-619-2441.
For more information: