LM Feature: Annemarie Pantazis | Pantazis Law Firm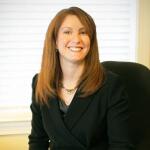 Annemarie Pantazis doesn't come from a family of lawyers. In fact, she comes from a family where work had to take precedence over education. Her father went to vocational high school and became a skilled HVAC technician while her mom learned short hand and worked as a legal secretary. Her parents worked hard so Anniemarie and her siblings could concentrate on excelling in school. It was Annemarie's part-time work at the law firm where her mother worked where she met her first mentor. It was this mentor relationship that would spark a fire in Annemarie. A fire that burns relentlessly with compassion, entrepreneurial spirit and persistence. A fire that has burned for over a decade. We had the opportunity to learn more about Annemarie's journey and how she has managed to successfully navigate the ever-changing legal landscape.
LM: What led you to pursue a career in the legal industry?
 AP: My mother worked at a law firm as a legal secretary and she introduced me to her boss, who ultimately became my first professional mentor. I worked for him throughout high school and during the summers when I was home from college. I was fascinated and inspired by not only his work as an attorney, but as a business man and member of the community. He really showed me that there was more to being a lawyer, than well—being a lawyer.
LM: What is the most important lesson you learned from your mentor?
AP: I would have to say he taught me the importance of building relationships and valuing people. I'll never forget the time he represented a man who was charged with shooting his wife and her lover after catching them in bed together. He knew his client was guilty, but was able to convince the jury to convict him of a lesser included crime. Once the man had served his sentence, he asked my mentor to help him find work. My mentor gave the man odd jobs and eventually built a business relationship with him where he would purchase homes and his former client would "rehab" and sell them. It was fascinating to me that he fostered a genuine friendship and business relationship with a man he once represented. In fact, it inspired me to take the same steps with one of my former clients.
LM: What challenges did you face while making the transition from classroom to courtroom and how did you overcome them?
AP: I've often thought of law school as being my formal legal education and the time I worked for a small firm as my practical legal education. I worked for my uncle's software development company during the time between college and law school. I watched as my uncle pursued his dreams of financial independence. I was able to see the risks paying off first hand. It was against that back drop that I started my legal career at a mid-sized firm defending workers' compensation claims on behalf of the insurance companies. While I felt like I was on the wrong side of the "v", I knew that I really enjoyed workers' comp law. However, I had a desire to defend individuals and help people. The biggest challenge for me, as it continues to be for most young attorneys is gaining experience and figuring out what you want to do. I was fortunate enough to figure this out rather quickly, but finding my fit would take a bit longer. Too many people are afraid of failure, of wasting money or time, or of doing nothing wrong. Every decision you make will not necessarily be the right one. But, learn from it and incorporate it into your building blocks for success. Failing forward is not failing at all, it's growing.
LM: What is one of the biggest misconceptions young lawyers have when it comes to being in the legal field?
AP: Young lawyers should keep in mind that success won't happen overnight and money doesn't always equal success or happiness. After two years of defending workers' comp claims, I thought I had finally "made it." I accepted an opportunity with a firm uptown and I was making six figures. The money was great, however, the work was tedious and boring. Even worse, I had trouble communicating with my boss. I was stuck with the "golden handcuffs." Although I was unhappy, it didn't make sense to walk away from the money. It's important, especially in the legal industry to never lose sight of your why. Many people pursue legal careers because they want to help people, it's important that you carry that with you as you navigate your career.
LM: What was the turning point in your career?
AP: Well, life threw me for a loop. I'll never forget it. My parents were in Charlotte for a visit on Friday and I was about to put my down payment on my first home the very next day. However, that Friday, I was called into my boss's office and fired. I was basically told that I hadn't lived up to their expectations. Eight months into the job and I was being told that my performance wasn't up to par. I was allowed to work at the firm for two more months while I looked for another job. I ended up working as an associate for a former co-worker who had started his own practice.  It was quite a significant pay cut but I was happy to be working in an environment that provided help to injured people. When I got fired, I finally realized that I loved law—I just hated my place within it.
LM: What led you to start your own practice?
AP: I was made a partner at the aforementioned firm after a year, which was a very generous and kind offer. We worked together for the next year and a half. However, we had some very different ideas about the right way to run the firm from both a business and personnel perspective. Long story short, I ended up taking my paralegal with no idea where I was going. I was grateful that my paralegal had enough blind confidence in me to follow me out the door. It was then that I decided to take the leap and start my own firm. My overall philosophy about going out on my own was that I wanted more from my career than just earning a paycheck.
LM: What is the most rewarding aspect of being a solo practitioner?
AP: When I took control over my career versus having other people dictate to me, I found true freedom and happiness. The hardest job is working for yourself, but when you can't be fired or evicted, it's also the most secure job. You're at the top of the food chain; you literally can't put a price tag on that kind of utter and compete freedom.
LM: What advice can you offer other lawyers looking to branch out on their own?
AP: a)      First, when I speak to young lawyers, I always tell them, "If you want to start a law firm, make sure you know the law first. Don't try to learn the law and learn how to run a business at the same time, because they're two very different jobs requiring very different skill sets."
b)      Start building your network while you're still in school.
c)       Have a mentor. You are never too old to have a mentor and never too young to be a mentor to others. Having someone who can give you constructive and honest advice is critical to one's success.
LM:  Is there anything you would like to add?
AP: My motto has always been, "I'd rather fail on my own terms than be complacent for the rest of my life." There are four things for you to "be": be fearless, be patient, be a networker, and be a communicator. The most important advice is this: don't be afraid. You wouldn't bet on yourself if you were going to fail. Inaction is worse than the wrong action, even though it can be frustrating to put time into building business relationships (seminars, lunches, after-work socials) that might not have an instant return. The next step may be "oops, that was the wrong decision," or " I lost the money," or "I spent some time that I can't recoup," but that's better than doing nothing and being paralyzed. In view, complacency and inaction are worse than trying and failing. 
Annemarie Pantazis is a Board Certified Workers' Compensation Specialist and the owner of the Pantazis Law Firm in Charlotte. Annemarie currently serves as Vice Chair of the NCAJ Workers' Compensation Section and on the Executive Committee of the Workers' Injury Law and Advocacy Group, a nationwide organization of workers' compensation advocates. She served on the NC Advocates for Justice Board of Governors from 2008 - 2014. She can be reached at amp@pantazislaw.com or 704-342-2243.