LM Title Offers Parapalooza CLE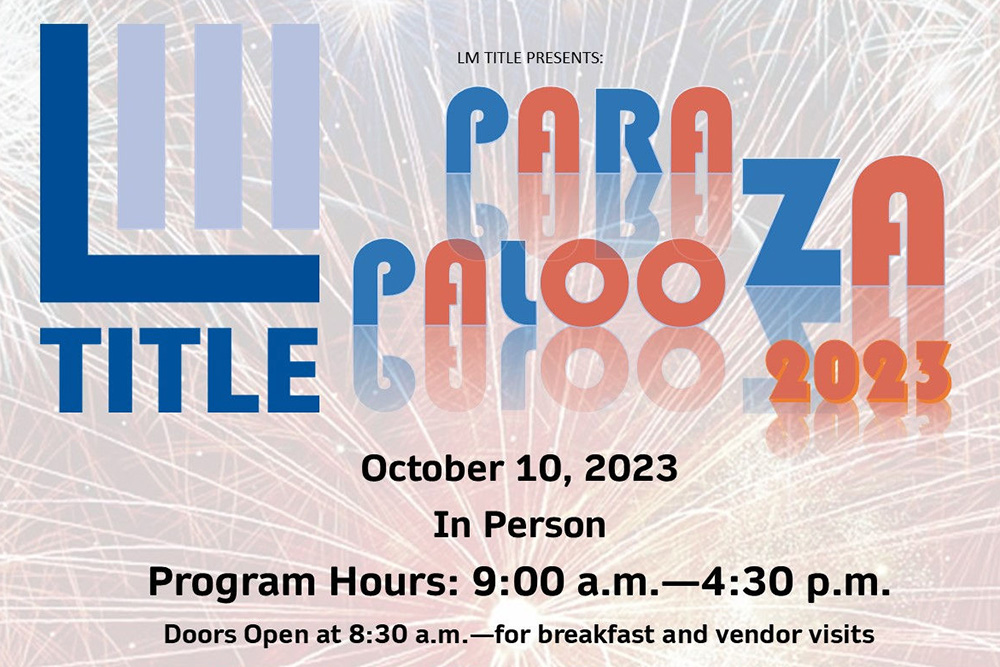 If you have a real estate practice in North Carolina, be sure to send your staff to Parapalooza in Raleigh this fall.
On October 10, Lawyers Mutual Title Agency will present the latest installment of its popular Parapalooza CLE series. The program is specifically designed for real estate paralegals, title searchers, legal assistants and staff. Speakers include paralegals, title counsel, closing attorneys, and a representative from the NC Secretary of State's Office.
The event is a great opportunity to learn new skills, network with peers and earn up to five hours of CPE/CLE credit. It is also a lot of fun, with door prizes, activities, food and gifts for every attendee.
Mark your calendar for October 10 in Raleigh. More details coming soon. Questions: CLE@lmtitle.com
​What would happen to your law practice if you experienced a medical emergency? Who would take care of your clients? What if a key partner dies unexpectedly? What would happen to the firm? If you aren't sure of the answers to those questions, HELP is available. Lawyers Mutual has assembled a rapid response team to Handle Emergency Legal Problems. Led by our in-house claims attorneys and outside counsel, our team has the training and resources to guide you through difficult professional times. Lawyers Mutual HELP will assess your crisis situation and work with you to craft a workable plan for moving forward. Since 1977, Lawyers Mutual has been there for our insureds and their clients. We have provided professional liability protection for NC lawyers longer than any other insurance company. Want to learn other ways Lawyers Mutual can HELP your practice? Visit our website, give us a call, or drop by our office. You'll see why Lawyers Mutual is the smart choice for liability coverage in North Carolina.
About Lawyers Mutual Title
From the LM Title website:
In October 2018, the [Lawyers Mutual] Board of Directors authorized the formation and funding of LM Title Agency, LLC through an asset purchase of Trust Title Agency, LLC in Garner, NC. Michelle Church, an owner of Trust Title, was hired by LM Title as Director of Operations and Troy Crawford was named Managing Counsel. ​
In November 2018, we opened our doors for business.​
Our priority is the highest level of customer service and dedication to North Carolina's Real Estate Bar. ​
Fast forward three and a half years, to Spring 2022. LM Title has completed its most recent asset purchase with the acquisition of Blackacre Title based in Wilmington. With the addition of Blackacre, their longtime underwriter and prior policy searcher, and its longstanding commitment to the State of North Carolina and especially the east coast and Wilmington area, we are excited to have more focus in the eastern part of the State.
Our main priority continues to be providing the highest level of customer service and dedication to North Carolina real estate attorneys and their staff. We achieve this with a dedicated team of professionals working tirelessly to fulfill your binder and revision requests, searching for prior policies, producing policies, providing monthly educational CLEs and presentations, and having title attorneys on call to answer all of your real estate questions.
We look forward to continuing to grow and provide excellent service to the attorneys of North Carolina. ​
SOURCE: LM Title Agency
For close to half a century, Lawyers Mutual has been the smart choice for professional liability coverage for North Carolina attorneys. We cover the state from Murphy to Manteo. We insure large firms, solo practitioners and everyone in between. We help new lawyers enter the profession with confidence, and we help keep seasoned veterans safe and successful. The numbers speak for themselves. Lawyers Mutual has been in business since 1977, making us the only insurance carrier to provide continuous protection over that period. Today we insure more than 8000 lawyers in North Carolina. Most of them will stick with us until they retire. Why? Because they know we are here for them today and will be here tomorrow, bringing protection and peace of mind in turbulent times. Visit our website, give us a call, or ask a colleague why Lawyers Mutual is the smart choice for liability coverage.