LM Feature: Rachel Blunk | The Forrest Firm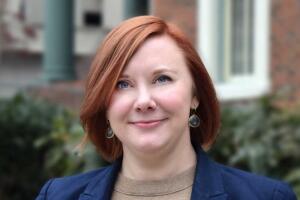 The legal industry is evolving; however, few law firms are reinventing their business model. Meet one firm who is, the Forrest Firm. The Forrest Firm, a full-service corporate law firm with offices across North Carolina, was founded in January 2011 by James Forrest (formerly of Moore & Van Allen and Greenberg Traurig) continues to expand. Client demands are changing, technology is disrupting the industry and lawyers' skill set and knowledge must extend beyond the courtroom.
We had a chance to talk with attorney Rachel Blunk, who works in the firm's new Greensboro office about the firm and future of the profession. Rachel will also be one of the presenters at our inaugural Managing Partners Summit next month.
LM: The Forrest Firm started as a solo practice and now there are several offices throughout the state. What has led to the rapid growth of the firm?
RB: The Forrest Firm has set itself apart from how traditional law firms operate, focusing on the wellbeing and growth of its clients, team, and community. Initially, the firm's focus area was providing responsive services and predictable pricing.  This intense focus on customer service lured the first wave of clients who had become tired of being continually surprised by high legal bills.
A few years ago, the firm updated its mission to fit a B Corporation framework.  Our mission specifically strives to create a healthy, sustainable work environment for our professionals (in a profession that's notorious for high levels of burnout, depression, and suicide), and we are committed to community involvement with intentional policies regarding volunteerism and pro bono work.  The Forrest Firm gives attorneys the abilities to customize their practices to fit their own work/life balance desires and personality fit (some like to network and look for business, while others enjoy the more technical legal work behind the scenes, and all enjoy the collaborative spirit of the firm).  Because of this commitment to our team, we are increasingly attracting great attorneys who continue to fuel the growth of the organization and attract the next wave of clients who align with our mission. As more attorneys and more clients come to the firm, others see and want to participate in a positive lawyer/client environment.
LM: The Forrest Firm has a B Corp Certification. Can you explain what that means for your firm and clients?
RB: For our firm, it's a commitment to a triple-bottom-line mentality. We're not just in business for profits, but rather to participate in the legal profession for good. That means social and environmental responsibility. It means a focus on hiring professionals who are underrepresented in the legal profession.  It also means that we are always outwardly-focused, looking for ways to give back to the communities where we live and work across North Carolina. And lastly, it means assisting non-profits and community organizations with legal work that they can't normally afford.  And our community service isn't just limited to direct pro bono representation.  We also look for other volunteer opportunities to assist non-profits (e.g., board service), hubs for entrepreneurs (e.g., mentoring and office hours) and other philanthropic efforts (e.g., donating money).
For our clients, our firm's B Corporation certification means the opportunity to align with a firm that holds similar values. When clients see that you are authentically adhering to your mission and expanding the level we give back year after year, they want to be a part of that positive community force. Clients can get legal services from many sources, but we want to provide a unique win-win-win scenario that benefits the firm, the client, and the community.
LM: Technology reigns in every profession and the legal world isn't exempt. How has the Forrest Firm found ways to evolve and implement legal technology into your practice?
RB: The Forrest Firm currently has seven offices and many lawyers that work remotely. Technology is key in supporting collaboration across the offices and across the practice areas.  In prior generations of law firms, face time with other lawyers in the office was how work was allocated and divided amongst practice groups and attorneys.  With our "work from anywhere" policy and offices across the state, technology is imperative for communication and workload management, and we utilize several platforms to assist our attorneys with this. We have also leveraged technology such as video conferencing, VOIP, and other such platforms to collaborate with clients and provide them with responsive, effective lawyering from anywhere.  A personal favorite of mine is our use of slack, which serves as an effective way to reduce internal e-mails for substantive communications, and also a fun digital watercooler to get to know our colleagues better.
LM: You began your career as an educational consultant at Innovation Research and Training ("iRT"), based in Durham and also taught upper elementary. What led you to make the transition from teaching to practicing law?
RB: I have always enjoyed solving problems and helping people grow and create.  In the education space, I had the opportunity to work with incredible young people who were excited about learning and growing.  When I transitioned to law, I found that my skillset directly translated into the business law/litigation space. When I help a client solve an HR issue, think through barriers to creating a new product, launch a new brand, or resolve a dispute, I have the opportunity to use my problem solving and teaching skills to help someone grow an idea, protect what they've built, or create a legacy in his or her community.
LM: What is it about the Forrest Firm culture and client experience that sets it apart from other corporate law firms?
RB: Part of what makes Forrest Firm unique is that it is both an employee-centric and client-centric firm. This means we are responsive, accessible, collaborative, and effective lawyers for our clients, but we allow our attorneys to practice in a way that makes sense for them.  Although we still bill by the hour in some matters, we provide different types of predictable pricing models.  These models help our clients get the legal work they need and helps keep our clients budgets in check.
LM: In serving as the NCBA's chair-elect of the Young Lawyers Division what do you find are the biggest concerns and challenges for young lawyers?
RB: As young lawyers enter the profession, they are excited about being contributing members of the legal community. However, they are facing high student debt, a still-recovering legal market, and competition from online legal services and non-legal alternatives.  As young entrepreneurs, they are looking for mentors and a supportive legal community to help them grow their practice, regardless of firm size and structure. At the NCBA YLD, we are glad to be able to provide young lawyers with a network of other young lawyers who can be part of a young lawyers constellation of support and mentorship.
LM: You are going to be on our panel for innovations in law firms at our upcoming Managing Partners Summit. What is one major trend you have noticed when it comes to law firms?
RB: Law firms are recognizing that the needs of clients are changing. They demand efficiency and a laser focus on client needs.  Here is a quote from a 2017 Altman-Weil survey regarding law firm transitions that I think summarizes the current legal market: "Ninety-four percent of respondents in this year's survey said that a focus on improving efficiency will be a permanent trend going forward. But only 49% of law firms said that they have significantly changed their approach to the efficiency of legal service delivery." The first statement continues to be true in 2018, and the second statement will continue to be an area that law firms know they need to change.
LM: What do you think is one of the biggest challenges for the 21st century law firm?
RB: Technology has dramatically changed how people practice law.  Email and other forms of electronic communication create the expectation of immediate response, whether that's from opposing counsel or a client.  It's imperative that lawyers and law firms utilize tools and technology to make those relationships better and more effective rather than allowing technology to disrupt the relationship between the client and the lawyer.
LM: As a former educator and someone who works with young lawyers, what is one thing you wish law schools would focus on more when it comes to preparing future lawyers for practice?
RB: Experience with client and workplace management is key for success. Although law students can gain these skills through a variety of life experiences, there is no substitute for practice and quality feedback.  The more opportunities a law student has in learning how to communicate with staff, senior attorneys, and many different types of clients about a variety of topics, the better that person will be at navigating the workplace and client relationships.